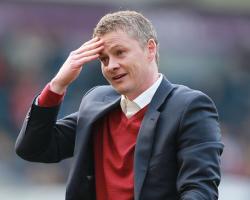 Cardiff end their brief stay in the Barclays Premier League on Sunday with a home clash against Chelsea, after which attention will turn fully to the early stages of masterminding a quickfire top-flight return.
Cardiff boss Solskjaer is unlikely to keep his current squad intact - it is thought Steven Caulker and Gary Medel, for instance, both have relegation release clauses in their contracts - while star goalkeeper David Marshall will undoubtedly be a major target for other clubs despite him recently signing a new Bluebirds contract.
"It is vital we keep hold of the ones (players) I believe will take us back up again

That job has already started," Solskjaer said.
"All of these in the squad now won't be here next season

That is the nature of football, but the ones who will be here will have to have the character

That league (Championship) is not just turn up and go through the motions.
"I can't comment on players' contracts

I am doing my best to keep hold of the most important ones, that I feel are the most important ones.
"David has been absolutely terrific this season

I believe he is very happy in and around Cardiff

He is one that I really, really want to keep.
"He has been the best keeper in the Premier League, for me

He has saved us many, many points, and he has not lost us one

That is the sign of a very good goalkeeper.
"Of course we are all disappointed (with the season), but there is only one way, and that is to come back stronger

We have got to regroup and look at what we have to improve on."
Cardiff will be without Juan Cala for the clash after the defender was handed a three-match suspension.
The Spaniard was sent off in the Bluebirds' 4-0 defeat at Sunderland last month for denying Connor Wickham a goalscoring opportunity, but this punishment relates to his conduct as he left the field and made his way to the players' tunnel.
With Cardiff relegated following last Saturday's 3-0 defeat at Newcastle, Solskjaer looks set to make changes as the Welsh club target a winning send-off on home soil before returning to the Championship next term.
Eden Hazard hopes Chelsea can finish the season with a Premier League victory before launching a trophy assault next term.
The Blues will end the season without silverware for the first time in three years, but with confidence restored after a sustained Premier League title challenge.
Jose Mourinho's men also reached the Champions League semi-finals, only to fall to Atletico Madrid as the Spaniards reached their first European Cup final in 40 years.
"The Premier League is objective number one and this season we were almost in the final of the Champions League, almost champions in the Premier League," Hazard told Chelsea TV.
"I hope next season will be better."
Hazard has been in sparkling form this term and is determined to finish the campaign on a high at Cardiff City Stadium after last weekend's goalless draw with Norwich.
He added: "It's very important because we lost two points in the last game against Norwich and we need to finish with one victory for the fans.
"I hope for a good game and we want to enjoy on the pitch."
The Cardiff match could be one of farewells for Chelsea players including Ashley Cole - and captain John Terry and midfielder Frank Lampard, if the pair can shake off a knock and illness, respectively.
Like the distinguished trio, Samuel Eto'o is also out of contract at the end of the season, but an injury in training on Friday means he is doubtful.
Mourinho hopes to rouse his players for one last effort, something he admits is difficult with Chelsea's ambitions for the campaign over.
The best the Blues can finish is second, but only if Liverpool lose to Newcastle.
Source : PA
Source: PA