Two people have been caught on video making airplane gestures towards Cardiff City supporters inside St Mary's Stadium less than 48 hours after the confirmation of the death of Emiliano Sala in a light aircraft crash over the English Channel.

The two people had their details taken by Southampton FC and the club issued the following statement:

"Southampton Football Club can confirm that two fans were detained and had their details taken by police during our match against Cardiff City on Saturday.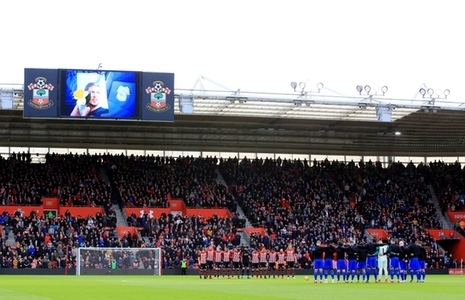 "The Club will continue to work with Hampshire Police to identify any individuals deemed to have made indecent gestures towards Cardiff supporters.

"Such behaviour has no place in our game and will not be tolerated at St Mary's. The club will be taking an extremely firm stance against anyone involved and intends to ban those supporters identified."

Sala, Cardiff City's record signing, lost his life on his journey to Cardiff to start his new life as a Premier League footballer. The pilot of the plane, David Ibbotson, has not been found yet. A Go Fund Me page has raised almost £70,000 to pay for the search for the 'beloved Dad, Husband and Son'.