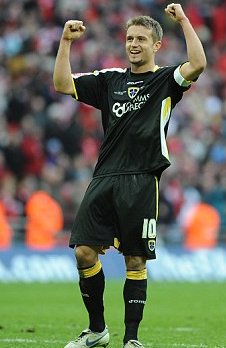 The 33 year old who has overcome illness to continue his playing career wants to keep playing but it will be at a new club.
"I have loved playing for Cardiff and enjoyed being even a small part of the club's title triumph this season," said McPhail.
"It's time to move on now because I want to play on for a couple of seasons at least.
"I am fit and ready and, for the first time in six or eight months, I am back to where I was three years ago.
"I don't where I will play yet but getting back to first-team football is important to me."
McPhail is one of a number of players who will not get new contracts, this season his only first team appearances came in the two cup matches but his efforts at the club during his time here has been superb. He has been a regular in the Development side.
"My fitness levels are good and I've played 20-odd development games," McPhail told the Echo.
"While I realise that's not first-team football, I have come through the matches with no problems.
"Maybe I'll move into coaching in the future, but right now I want to focus on playing for a couple of years.
"The manager (Malky Mackay) hasn't been able to get me involved this season, but that's his decision and I can't complain.
"It's been frustrating not being involved but the lads have been great – they are the champions and made me feel part of what they have achieved.
"It's great that we have finally got over the line after being so close in the past. I enjoyed the open top bus tour and celebrations and being here as long as Kev (McNaughton) and Whitts (Peter Whittingham), yes, I have felt part of it."