According to the BBC website, Cardiff City almost "stole" a victory at Stoke this afternoon when sub Ryan Wintle's shot in added time was turned around the post by home goalkeeper Jack Bonham.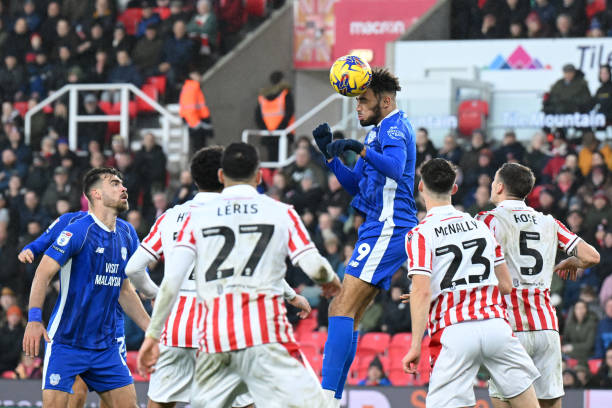 I can only presume that the match report was written by a Stoke fan, because there would have been no theft involved if City had won. The Stoke commentators I listened to were agreed that City carried the greater threat in a tight affair which ended goalless and you only have look to the fact that Jack Alnwick had one of his quietest games of the season to find evidence that we were comfortable at the back for the vast majority of the ninety minutes.
In fact, the only time I can recall the City goalkeeper being extended was when we let a straightforward looking ball down our left find its way to Dwight Gayle and Alnwick was able to get out quickly enough to make the veteran's task harder and block the shot.
While a draw may have been a fair result in the end, the truth is that, by rights, one of the sides should be grateful to have got out of the match with a point and it wasn't City.
No, we were the side who would have left frustrated that we had not been able to take advantage of one of several promising situations we had. Aaron Ramsey has not played for not far short of two months now and I have been surprised how little I've found myself thinking if only we had Ramsey here, but I did today. I thought the three young subs we brought on (Rubin Colwill, the fit again Kion Etete and Ollie Tanner) all did well, but I can't help thinking that if we'd had a fit again Ramsey to come on with fifteen minutes left, he'd have found a way to open Stoke up.
Before going on to talk more about the game, I think a bit of context needs to be put on what we faced today.
I'd say that Stoke's three previous results were more impressive than any other Championship side. First, they beat a dangerous Sunderland team at a time when manager Alex Neil was under real pressure after his expensively rebuilt side (Stoke have made spending big for absolutely no reward into an art form since their relegation from the Premier League) had dropped to twenty first in the table.
Last night, Leeds became only the second side to beat Leicester this season and yet Stoke were able to see them off 1-0 and then they went to a Middlesbrough team which had six straight wins behind them and won 2-0.
Stoke were generally thought of as having had a very good summer transfer window and were seen as dark horses for a top six finish by some pundits. Over those three matches I mentioned, Neil's team looked as if such expectations might be justified and it's a measure of how much we've improved that we were able to contain and then, increasingly, frustrate such an in form team today.
One of our better away results last season came when we went to Coventry to face the team that was beaten in the Play Off Final and came away with a goalless draw. However, we were never going to score in a month of Sunday's and it was just a question of if our, often desperate, last ditch defending could keep our goal intact.
Now, I'm not going to say that Stoke were hanging on today like we were on that night in Coventry, but this was an awful long way away from what we came up with just after Christmas last year. Here, we were generally calm in our defending, it looked like we had a plan and we could and maybe should have taken the three points as we imposed ourselves on the game from about the hour mark onwards.
We dropped out of the Play Off positions today, yet I feel more confident tonight than I did twenty four hours ago that we might be able to maintain this surprising top six challenge – in a quiet way, it was a very impressive performance this afternoon.
Unsurprisingly, Erol Bulut opted for an unchanged side for the third straight game and there was just the one change on the bench with Etete returning in place of Romaine Sawyers.
I've just read Alex Neil's post match comments and he thinks that his team had more chances in the first half and us more in the second (he also said we're a very hard side to play against). I'd agree with him to the extent that Stoke were perhaps the better side in the opening forty five minutes when they appeared physically stronger than us in some areas with Jamilu Collins in particular having his struggles as most of the home team's attacking came down his side (Collins was a lot more like his usual self in the second half mind).
However, I don't recall all of these chances the home side were supposed to have had. I've already mentioned Alnwick blocking Gayle's effort and there was a half chance for the striker that he dragged well wide, plus Andre Vidigal jabbed a shot yards wide in a goalmouth scramble.
I can't recall any other problems for us though and yet, despite not having very much of the ball and spending most of the time defending, we came closer to scoring than Stoke did.
Bonham had to be quick off his line to deny Karlan Grant in the opening minutes and then Mark McGuinness got a firm contact on a Joe Ralls corner, but his header flew straight at Bonham. The goalkeeper would have had no chance though if McGuinness' header from another Ralls cross had been two foot inside the post, instead of two foot outside it.
Callum Robinson was guilty of not making the most of a promising situation when he ignored better placed team mates and shot wastefully over, but he did better just before half time when Yakou Meite found him in space and this time his attempted cross was deflected onto an upright by a defender.
As for Stoke attacks in the second half, they were few and far between, centreback Michael Rose was left free from a corner and will have been disappointed to head a long way over and their substitute Josh Laurent was as far off the mark with a volleyed opportunity.
Up the other end, Grant was not too far wide with a fifteen yard effort, Josh Bowler forced Bonham into a save and then, having done so well to get past two or three opponents, the winger pulled back his cross behind the three blue shirts that had got into scoring positions.
There was also a scramble in front of the home goal which was ended when Dimitrios Goutas sliced his attempted cross badly. Then right at the end, we had the moment when we almost "stole" the points when Colwill combined with Tanner (those two appear to have a good and developing understanding of each other's game which bodes well for the future) and the latter's low cross was met by Wintle, who replaced Ralls with about ten minutes left, and his shot was going in on the near post until Bonham's intervention.
The BBC's stats show that Stoke had the better of things when it came to possession (60/40), but City had eleven goal attempts to seven, three on target efforts to one, seven corners to one and we only committed six fouls to the home side's sixteen – that reads like a fair assessment of the balance of power in today's match.