Cardiff City rode their luck to record a fourth successive win at whatever the Britannia Stadium is called these days and yet for at least two thirds of the game, this was Coventry revisited as a tired looking and careless team in blue struggled to stay in the match against an injury ravaged Stoke City outfit.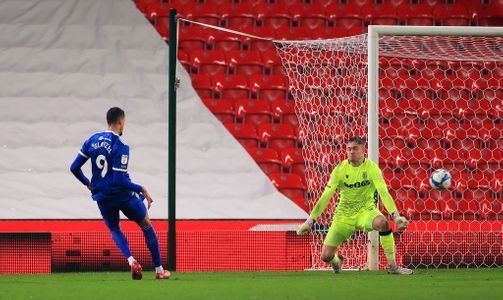 City, unchanged for a fourth consecutive match in this season which is an almost continuous onslaught of weekend, midweek, weekend fixtures, very rarely look to be physically weaker than their opponents at this level, but they did for long spells tonight as Stoke invariably won challenges all over the pitch as they looked more dynamic and up for it than their lethargic opponents.
It wasn't as if Stoke were tearing us apart or anything, they rarely threatened in a game which produced little in the way of goalmouth action, but, perhaps, because they had a few players getting a rare chance to impress with a place in the starting line up, they had considerably more bite and vigour to their game than us and they were largely comfortable as a well struck twenty yarder from Harry Wilson in the first half which flew a yard or two high and wide apart, City were unable to muster a single goal attempt.
Watching at home, it was hard to gauge what the conditions were like, but the clues were there as the ball zipped about on a lively pitch and long passes played towards the end where the away fans would usually be in either skipped harmlessly through to the keepers or out for a goal kick.
Stoke's home ground, which I still think of as new, has a reputation for being one of the windiest around and, with the rain lashing down at times, this was the sort of game and conditions that the ridiculous Andy Gray line about what would Lionel Messi be like on a wet Wednesday in Stoke was based on.
The football for long spells was unremitting and grim, but, having gone ahead with a goal that was well suited to the whole ambience of the game, Stoke weren't bothered about that – they appeared to be on their way to a win and a fourth consecutive clean sheet which would further enhance their promotion claims as they closed in on a triumph over one of the Championship's form sides.
That said, anyone who had not seen our impressive wins over Luton, Huddersfield and Watford would have looked at how the slick pitch exposed the technical deficiencies in many of our players and wondered how on earth we'd taken those nine points.
Right from the start, City did not look right and the game's most impressive player, Stoke forward Tyrese Campbell, almost opened the scoring with a placed left footed effort from the edge of the penalty area which flew inches wide with Alex Smithies beaten.
Campbell gave Joe Bennett an uncomfortable first quarter of the game and, after his first cross was blocked, the Stoke man was a little lucky as Curtis Nelson's clearing header came straight back at him. Campbell now had a bit of room to work in and, with Bennett some way off him, he went past the full back and, cutting in from Stoke's right, closed in on goal. With three or four of the home players showing the sort of energy which typified much of their early work, bursting into the penalty area, City were clearly in trouble, but when Campbell crossed it was low and took Smithies out of the game (somehow the Wales Online player ratings deemed him to be "partially at fault" for the goal) to leave Sean Morrison facing his own goal about three yards out with opponents converging looking for what would have been a simple goal – little wonder therefore that City's skipper turned the ball into his own net.
So, for the first time in something like 330 minutes, City had conceded a goal – the good news was that they still had sixty five minutes to turn things around, but the bad news was their distinctly ordinary record in games in which they had conceded first this season.
Add in Wilson's shot and I've described all of the meaningful goalmouth action of the first half, but Leandro Bacuna, easily the best of our outfield players during that time, had to react sharply to snuff out a couple of situations which threatened to develop into something serious for City.
Apart from that, Mark Harris unselfishly ran the channels and did some useful work for little reward as he and Keiffer Moore were presented with little ball of any quality, while that one effort apart, hardly anything was seen of Wilson and Sheyi Ojo on the wings.
I mentioned earlier that City rode their luck, or at least they certainly did in the third quarter of the game. Firstly, when James Chester nodded what was only the game's second corner on to City's crossbar, referee Harrington missed what seemed to be a touch by Smithies as he produced a fine save to keep his side in the game.
City had further reason to be grateful to their keeper after Stoke had pieced together one of the games few fluent moves down their right and when the cross came over it turned out to be a low one which saw Morrison impede Nick Powell for what looked a clear penalty. Sub Sam Vokes' spot kick wasn't a great one and once Smithies guessed the right way to go, he was always likely to save it, but, nevertheless, our keeper's contribution was the foundation upon which an unlikely win was built.
The reasons Vokes was on the pitch was down to a third bit of luck for City when Ojo made his biggest contribution up to then with an innocuous looking challenge on Campbell which left the Stoke man hobbling badly as he made his way around the pitch with what looked like a knee injury which could keep him out for some time – Jacob Brown, who started the game as Stoke's lone striker before switching to the wing with Vokes' introduction was another injury victim as the home side's squad strength was tested to the maximum.
After Smithies' penalty save, I shouted plaintively at the screen "come on now City, do something!" (there may have been another word in there somewhere!), because, in an attacking sense, they had done next to nothing up until then. On reflection, that plea was aimed as much at our manager as the team because, with no sign of an improvement in the opening stages of the second half (in fact things were, if anything, were getting worse), the lack of substitutions was hard to understand.
When a change did come, it was down to an injury – Wilson had been struggling for a few minutes with what looked like a wrist or arm injury sustained thanks to a firm, but legal, challenge by James MacLean and eventually he went off to be replaced by Robert Glatzel.
It would be wrong to suggest that Glatzel's introduction single handedly changed the game, but he did start begin to do things that no one else had done for us up to then -for a start, he single handedly forced City's first corner of the game.
When City are struggling to do anything in an attacking sense from open play, they rely greatly on their tried and trusted set piece game, but it had not been going well up to then against a home side that had only conceded two goals from set pieces all season.
The few free kicks City had gained in potentially dangerous areas had come to nothing, while the towel that had been available for Will Vaulks to use to dry the ball prior to one of his long throws had mysteriously disappeared around the twenty minute mark never to be seen again. Therefore, Vaulks' throws were pretty hit and miss all night with far more of the latter than the former – the odd one would bounce around close to the Stoke goal, but it was always a home defender who was on hand to deal with it.
Now, with Wilson off, Joe Ralls was charged with taking his team's first corner and, initially, it was easily repulsed, but the ball was only cleared as far as Bacuna who fed Ralls and this time the cross to the far post picked out an unmarked Glatzel who controlled the ball instantly before dispatching it past keeper Josef Bursik from around the corner of the six yard box.
It was an impressive piece of finishing by the German – simple, economic and very effective, which offered backing for his manager's claims about the quality of his finishing and raised questions as to why we haven't seen more of it than we have done.
With that goal, the game changed completely. In an echo of the memorable 1973 Grand National, Stoke, now were the Crisp to City's Red Rum as, having gone off at a pace designed to break the rest of the field, they were now being reeled in by City and were, in effect, in the process of being overtaken by City. As is almost always the case in any race, the fast starter has nothing to come back with when their gamble has failed, thus Stoke were, effectively, tailed off well before the final whistle.
It was City who were now winning all of the fifty/fifty challenges and while the corners were not exactly being racked up, the four we ended up with were four more than appeared likely for three quarters of the game.
Whether the equaliser, which came from a second cross following a corner, counts as a set piece goal for stats purposes I don't know, but City's winner in the seventy sixth minute definitely arrived via that method as Ralls put over a ball to the far post area again which the criminally unmarked Morrison nodded down and into the roof of the net to complete a match in which the captain had experienced a full range of emotions.
The two goals came from City's only on target efforts of the game and they were to have only four goal attempts in the ninety minutes, but the fact that Stoke only had the one on target (presumably the penalty?) from their five attempts tells you what sort of match it was.
While Stoke were winning, they always looked likely victors, but once they fell behind there was the usual nervousness when your team is defending a one goal lead going into the last few minutes, but it was mixed with the knowledge that the opposition had, frankly, shot their bolt and were very unlikely to come up with anything creative that would open City up – as long we avoided mistakes, we were going to be fine.
City duly avoided said errors despite an additional five minutes over the ninety and, for the first time since they beat Barnsley 3-2 at Cardiff City Stadium just over a year ago, had won a game after falling behind, thereby putting right one of this season's most damning stats about how they had been responding to going 1-0 down.
More than that though, by going to the grounds of two top six sides in three days and winning on both occasions, City have shown credentials which mark them out as a team capable of making a challenge for those positions themselves – in fact, a look at the stats on this site suggests that Neil Harris had a point a few weeks back when he said we were lower in the table than where the stats would indicate we should be – arguably, even our current ninth should be a few places higher.