http://mauveandyellowarmy.net/
It needs to be said of course that Cardiff City could have performed just as limply, ineptly and mundanely as they did in losing 2-0 this afternoon at the Britannia Stadium to Stoke City if Lee Tomlin had been in the side.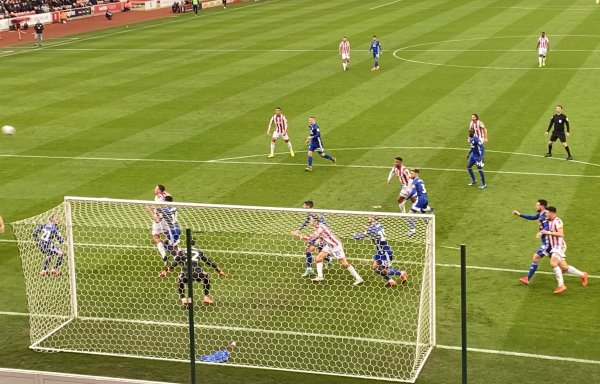 The moment before City conceded the first goal
Furthermore, it's only fair to note that this was just the third loss the team had suffered in the Championship in the three months and more since Neil Harris was appointed as manager – that's seventeen games ago.
Also, these days there is a tendency for supporters (including this one!) of all sides to base their opinions on what happened in the last match – especially if it ended in defeat.
Nevertheless, I can fully understand why there has been such a downbeat reaction to today's outcome – I say that because once the news about Tomlin came through, what followed was only a confirmation of the worst fears of many of them.
Although there has been no official confirmation yet (City were always very reluctant to discuss the severity, or even the type, of injuries players were carrying under Neil Warnock and this seems to be continuing under Harris), it's being suggested that the knee injury Tomlin suffered in training this week could be a season ending one. If that is indeed the case, then it will be a devastating setback to the team and, I fear, a terminal blow to any hopes of a top six finish.
On the face of it, that might seem overly dramatic. After all, while Tomlin has been one of the form players in the number ten type role in the division over the last few months, you would expect any side with realistic hopes of extending their season by taking part in the mini competition which decides what team takes the third promotion place to the Premier League to have at least one player able to come in and make a reasonable fist of replacing him, but the truth is that there is no one else who has played for us this season who could provide what Tomlin has been providing lately.
Yes, we have players such as Josh Murphy, Junior Hoilett and, when fit, Nathaniel Mendez-Laing who are capable of magic moments which can lead to goals, but the difference is that with those three players, it is, nearly always, in an individual context – that is, a run past opponents or a spectacular goal, whereas what you get from an in form Tomlin is all of that, but also you get it within a team context – the brilliance also includes defence splitting passes and assists that are, as in the case of Robert Glatzel's equaliser at Leeds, occasionally outrageous.
I've just posted on a messageboard that City looked like a team which was thinking we've got no chance today without Tomlin. I'd like to think that most of us accept that, especially in a league that is as competitive as the Championship is, City are going to have days where they don't play well, but commitment and fighting spirit are minimum requirements – unusually, for this squad, I saw little evidence of that today.
Nothing showed up the difference between the teams as much as Stoke's second goal where the home side's players won a series of individual battles, one or two of which you would have thought beforehand were something like 70/30 in the City man's favour, until Joe Allen was left with a simple, close range rap in.
Let's not forget here either that, although Stoke have one of the better looking squads in the division on paper, they have spent all season in or around the bottom three and they had conceded ten goals in losing three of their last four games.
Stoke are no great shakes then, but they were comfortably better than us – you hear managers of beaten teams sometimes saying that their side had turned in a "nothing" performance, well, there was nothing that City did today to a satisfactory level, so I suppose that's what they mean when they use that term.
If the second goal illustrated the contrast in mental approach between the sides, the first one was another example of inconclusive defending from a set piece as, for the second time in a week they found themselves 1-0 down from the first corner they had to defend. Callum Paterson could be considered unlucky when an inswinging corner cleared the near post, yet had dropped enough to go in off his knee by the time it hit him about four yards out from goal as he stood just inside the far post, but, in saying that, he was caught somewhat flat footed as if he was not expecting the ball to get beyond the near post.
The fact that it did was, possibly, suggestive of a very surprising stat which was among the plethora of them I saw at half time. While these were only first half figures which might have swung our way more after the break, I still find it concerning that, in a team which sets such stall on such things, we won only thirty two per cent of the aerial challenges we were involved in.
Returning to the Tomlin theme, the main reason why I had been allowing myself to think we might just make it into the top six was that Josh Murphy had begun to look the player he could be at this level in the last month or so, not just in terms of his much improved goals output, but also in his more general contributions – therefore, we had someone who could take some of the responsibility for opening up opposition defences off Tomlin..
However, even with this new, improved Murphy, there is still that equivalent of the sort of formula you came across in geometry or physics lessons to consider whereby;-
Cardiff City away game + determined opponents = Josh being substituted around the hour mark
to be considered – it happened at Luton and, after one or two fleeting glimpses of his ability in an otherwise anonymous showing, it happened again here.
Mind you, it would to be wrong to pin all of the blame for an anaemic attacking showing on Murphy. Danny Ward came into the starting line up instead of Tomlin and only did more to persuade me that those who have expressed the opinion that he is more effective coming off the bench than he is when he starts might well have a point.
Paterson was another one who had a mainly frustrating afternoon even without the own goal – it really does say so much about our lack of options when it comes to the more "traditional" interpretation of what a modern day number ten should be that, warts and all, Paterson is probably the most effective person we have to play there in Tomlin's absence.
Albert Adomah was probably the best of the front four, but that's not really saying much when you consider that the only City "attack" worthy of inclusion in Sky's short highlights package of the game was a cross he put over that home keeper Jack Butland opted to turn away for a corner with no attacker anywhere near him – off the top of my head, I can't think of anything we did that was more worthy of inclusion in any compendium of the game's highlights.
The poverty of our football and the lack of a suitable replacement for Tomlin has me thinking that we may as well prepare for another season of Championship football in 20/21 – the ground we made on the top six in recent weeks is all but lost and I think we are almost, but not quite, into must win territory when it comes to this week's home games with Forest and Brentford.
Below first team level, there was a second successive 2-2 draw for the Under 18s this lunchtime when they twice came from behind to draw 2-2 at Coventry – Keiron Evans getting both of the goals.