Surely, if and when Cardiff City ended their club record run of eight successive league losses it would be through a scrappy, low scoring draw or, if they were lucky, a ground out 1-0 win with a suitably scruffy goal deciding it?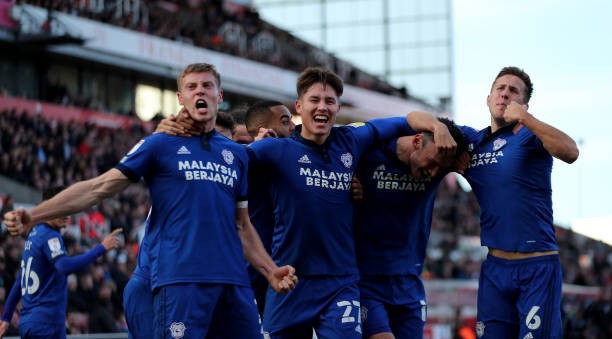 What they were never going to do was, having not scored in over nine hours of play, play like drains for an hour in going 3-0 down and then score three times in five minutes to come back to draw after a close, but correct, offside call ruled out what could have been a winner. However, that's precisely what happened and the world suddenly seems a better and brighter place after City gained a point which feels very much like three.
All of this surely helps the cause of caretaker boss Steve Morison the coach of the highly successful Under 23 side if he is looking to become our new manager, but it must be said that although there were what I thought were encouraging signs as the match went on which I'll come to later, in many ways, it was the same old, same old from City at Stoke, themselves on a losing run of four games, today with things reaching the awful stage where their fans were ironically "oleing" them when they completed a successful pass shortly before the fight back began.
The Stoke fans were predictably merciless as their side strolled into their big lead without really having to exert themselves too much, but to hear your own support taking the piss out of you must have had our players wondering just how much worse was it possible for this nightmare to become.
None of this is to criticise those who went to the game. Honestly, I think they deserve medals for still having the faith to endure what, apparently, was a particularly slow journey up on a route that is notoriously bad when you consider the fare they've had to put up with and, with the target of their ire in the last few weeks having now left, the team, rather than the caretaker boss, were always going to be targeted in the event of things continued to go wrong.
Go wrong they certainly did as Morison reverted to the three man central defence by opting for the 3-4-3/3-4-2-1 that the Under 23s have used all season. The omission of Aden Flint came as a surprise to me as Sean Morrison and Curtis Nelson returned to accompany Mark McGuinness, while Ryan Giles moved to the left wing back position that it had been assumed he was going to occupy at the start of the season, with Perry Ng on the right.
With Marlon Pack suspended and Sam Bowen and Joe Ralls missing through injury, City would have been grateful that Leandro Bacuna had recovered from the injury which forced him off at Swansea to play alongside Will Vaulks as we were very much down to the bare bones in midfield.
It was up front where Morison's selection drew on the youngsters he was used to working with as Keiron Evans started for the first with Rubin Colwill as the pair to play on the flanks behind Keiffer Moore.
City's start was quite an encouraging one, but for now, I want to talk about how we conceded in the ninth minute from what seemed to me to be the first time Stoke put a cross into our penalty area. This time, I wouldn't be too critical of our central defenders because it was a good quality ball in from the right by Ben Wilmott that Jacob Brown just got in front of McGuinness to nod in from ten yards with Alex Smithies helpless.
No, it was another familiar problem this season that stood out for me as opposition players were allowed far too much room in the areas just outside our penalty box as Vaulks and Bacuna (who may have been a bit rusty about what his duties were in what is his best position as it's been so long since he played there) got nowhere near their men.
Seven minutes later, Brown was able to find room between our defenders much too easily and burst forward before cutting back a pass to Stephen Fletcher who was able to take a touch before scoring from that twenty to twenty five yard range where we've conceded so many goals this season. Once again, the lack of closing down on the player in possession was conspicuous, but luck was against City as it seemed like a shot Smithies would have dealt with pretty comfortably until a deflection off McGuinness took the ball beyond him and in.
Stoke were dominant for the rest of the first half as City struggled in familiar fashion to, first, get possession and then retain it. It was not as if the home side were laying siege on our goal, but for most of the time it was embarrassingly comfortable for them to maintain their dominance.
Two behind at the break, City needed a strong start to the second half, but instead presented the hosts with a third goal within half a minute when Vaulks wanted too much time on the ball and we were in trouble as soon as he was robbed. Once again, it was Brown who fed Fletcher who coolly lobbed Smithies from the edge of the penalty area.
I was going to say that Smithies made some good saves to keep City in it, but that would be wrong – to all intents and purposes, they were out of it already.
Yet, right from the start, this had been a game where City looked like they could cause the Stoke backline problems if they just had a bit more belief in themselves. There has been much said about the lack of pace in City's squad, but I don't know if it was that Stoke's defence was spectacularly slow, but we seemed to have the legs on them throughout with even Moore at times giving his marker a yard or two and managing to beat him to a through pass.
With Colwill a creative influence on the left, City were in the game as an attacking force if only we could find the passes to give him and Moore especially the opportunity to show their ability to cause problems.
It was a shame therefore when, after just five minutes Colwill, made a mess of a marvelous opportunity when two home defenders collided to allow what had looked like an innocuous ball forward to reach him in glorious isolation on the left. Colwill ran in towards goal and probably made the right decision to try to find Evans who would have had a tap in rather than shoot himself, but he played his pass behind his young team mate and a glorious chance to end City's first half goal drought had gone.
There was one another real opportunity for that first forty minute goal though as Colwill cleverly slid Moore through around the forty minute mark, but last season's twenty goal striker never looked convincing as he elected to shoot rather than try to find Evans and home keeper Joe Bursik was able to save.
Once Stoke were three up, City's objectives seemed twofold, keep the score down and, at long last, score a goal. As for the latter, you had to think there was no chance of that happening after Bacuna's free kick from twenty two yards deflected off the wall and onto the post, but, instead, it was the prelude for an absolutely incredible spell of football which left City fans incredulous and Stoke supporters furious.
When it came a minute after Bacuna's effort, City's long awaited goal was courtesy of a goalkeeping blunder – Colwill's shot from the corner of the penalty area was well struck and bounced slightly awkwardly in front of Bursik, but he really should have found a way to keep it out – instead it burst through him and bounced into the roof of the net.
I watched this thinking that at least City now had something slightly positive to take out of the game, but with Stoke retaining possession and pushing forward, there seemed no reason to expect any more than that until Josh Tymon over hit a backwards pass meant for Jordan Thompson and Moore broke down the right before delivering a well timed and weighted pass through to sub Mark Harris who beat Bursik with a fine first time finish from around fifteen yards.
Harris, on for Evans, has struggled in the last few games to make an impact after coming off the bench, but here he looked the mobile and strong nuisance for defenders he had been on quite a few occasions last season – he may well have played his way into the starting line up for Wednesday's visit of QPR.
Within another minute or so, City were, incredibly, level following a good period of possession that included a fine cross field pass by Bacuna and eventually the ball reached Giles, who, growing into his role, broke past Stoke right wing back Tommy Smith and crossed low where a slight deflection off a defender took the ball into Moore's path and he tapped in from no more than five yards.
Okay, the first two goals owed a lot to opposition mistakes, but the second one was beautifully taken and the third was well constructed and they both showed what can be achieved with a little bit more confidence in the camp – the three goals also put to bed that embarrassing stat about only scoring two goals that weren't headers.
Understandably after that, City were more concerned with holding on to their first point in nine games than chasing the win, but only a close offside decision denied Harris a second goal after a quick counter attack gave Giles the chance to put in another good early cross.
Stoke had their attacking moments after that and former Wales centreback James Chester did City a big favour in added time when he not only blocked a goal bound shot, but also did it from an offside position.
So, City get a desperately needed point in the most unexpected circumstances, there's still weaknesses in many areas of the team and so many of the faults that have blighted the season were still there today, but, for now, it's great to have taken a point from a game – there were times over the past month when I truly couldn't see where it was going to come from.
By complete contrast, the Under 18s are steamrollering teams at the moment. Fresh from scoring nine goals in winning their last two matches, they thrashed Ipswich 6-1 this morning at Leckwith with the goals coming from Morgan Wigley, two from James Crole (one a penalty), Rhys Schwann, Rubin's brother Joel Colwill and Isaac Jefferies who scored within minutes of coming on as a sub following a long term injury.
https://mauveandyellowarmy.net/