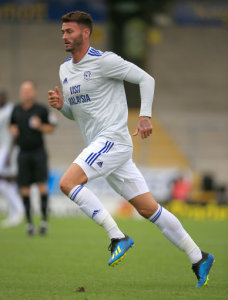 Madine has struggled to get first team appearances at CCS and only saw action in 19 games over the year, just five of those were starts.
Madine, who has some history with United, said
"There were other teams interested, but believe it or not when I knew Sheffield United was interested, I was buzzing and jumped at the chance.
"I've played with some of the lads and against them too, I was dying to make the move happen.
"Some people have this perception I don't like Sheffield United, but that's not true. I've had over 20,000 supporters booing me when I've played here before, it's an intimidating place to come and some players would crumble.
"But I've always thought I wouldn't mind being part of that and it is certainly a club on the up, one who play some excellent football."
Blades boss Chris Wilder is happy with his new recruit and believes he will be an asset.
"I've heard so much nonsense about what Gary will do to the changing room, but people have got to trust me and I deserve that right.
"We're looking forward to working with Gary, there have been bits and pieces in the past, but I will always look into characters and how they conduct themselves. Gary will add to what we've got off the pitch, but more importantly on it."
Wilder added: "It's a bold decision by the boy too, he could have taken an easy option. There were two or three top end Championship clubs that he could have gone too.
"He's made a brave move that should be respected, he's not took the easy way out and he wanted to make this happen.
"I've spoken to people I trust and respect who have worked with him and every time he's played against us he's been a proper handful."