The peaceful protest has received the backing of all supporters groups including the Trust and the London based 1927 Club.
The majority of fans across the messageboards and from the Supporters Club have united to give their backing to the protest.
The protest march will leave the area outside the Napier pub in Canton at 2pm prompt. Full details on the poster below.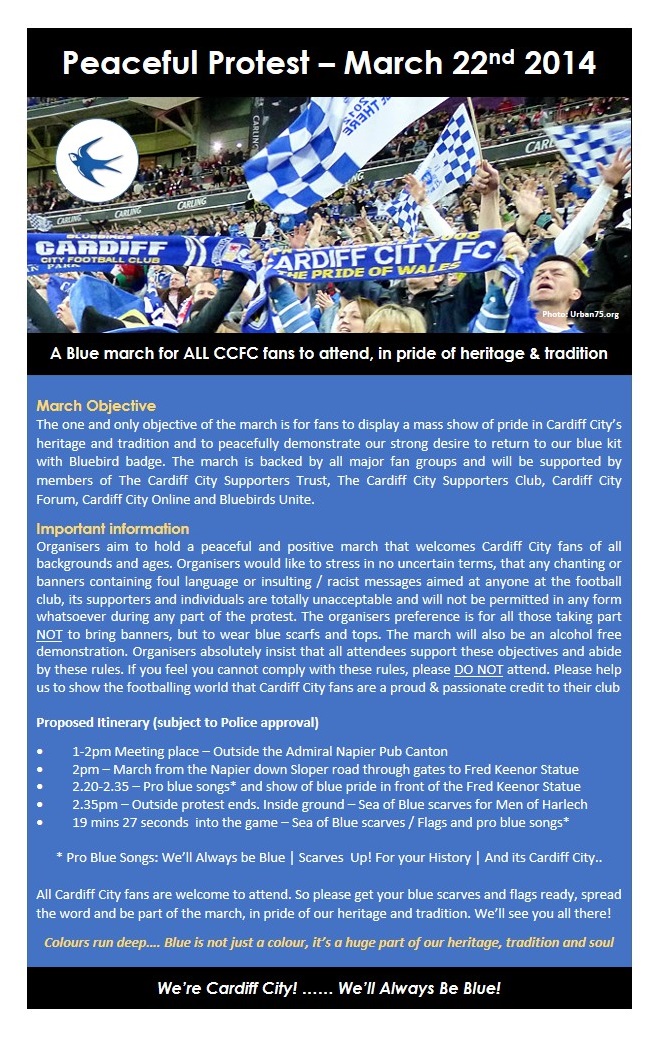 A statement posted by the 1927 Club reads:
In June 2012, as a result of Vincent Tan's insulting and extreme rebrand, the 1927 Club, the London and South East Supporters Club withdrew its support of Cardiff City Football Club until it returned to its historical identity.

We remain proud that we were the only supporters organisation to officially oppose and condemn the rebrand from the start.

The 1927 Club has remained in existence and its members have followed the efforts of those who choose to oppose the rebrand while feeling they can continue to support the football club with interest.

The march on Saturday 22nd March 2014 before the home game against Liverpool when for the first time, a wide range of supporters groups will join together in a call for the club to return to blue is an encouraging development.

We wish all those marching on Saturday demanding the return of the club's identity good luck and as a sign of support have today made a cash donation to Bluebirds Unite.

Sometimes marginalised, Bluebirds Unite have been the most vocal and consistent in their opposition to the vandalism of the club's identity and they deserve credit for their persistence and hard work.
And the Supporters' Trust say
"The Trust fully supports the proposed demonstration before the Liverpool match on Saturday, March 22.
"Early returns from the Trust fans' survey show strong opposition to the rebrand from both Trust members and non-members and an overwhelming desire for a return to blue.
"We have detected a hardening of attitude as a result of the off-the-field controversies which have soured the club's return to the top division.