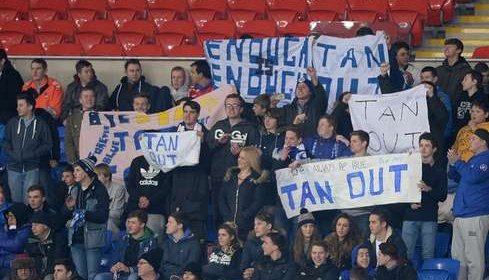 Cardiff City have scheduled a meeting between the Chairman and Chief Executive and a number of Cardiff City fans who are both associated and not associated with supporters groups like the Trust and the Supporters Club.
Last Friday saw the lowest ever crowd at CCS for a first team game and there are protests planned for future home games against the destruction of the clubs blue heritage and tradition. Even though it's over two years since the change to red the tension has been bubbling away.
News of the discontentment, ususally ignored by Vincent Tan, has now prompted the owner to instruct his team in Cardiff to listen and hopefully respond to the unhappy fans.
Club statement
Cardiff City Football Club recognises that one of the key assets the Club has is its fan base. In recognition of their importance, Vincent Tan has asked Cardiff City Chairman Mehmet Dalman and CEO Ken Choo to invite a cross-section of supporters and stakeholders for a consultative meeting, including but not exclusive to the Cardiff City Supporters Club and Supporters Trust.
As such a meeting has been scheduled on Thursday 8 January 2015, with invitations being compiled and sent today, Monday 5 January.
The purpose of the consultation meeting is to give supporters an opportunity to openly share their views on a number of topics in relation to the Club.
We care about our fans and their views are important to us.