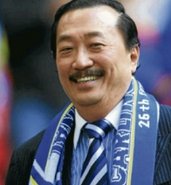 On Friday, Malaysian businessman Tan removed the red home strip he introduced in 2012 in the wake of a record low crowd at the Cardiff City Stadium for the FA Cup third-round tie with Colchester and planned supporters' protests in the new year over the club's controversial rebranding exercise.
"Vincent is open to the idea," Dalman said about the possibility of supporters being represented on the Cardiff board.
"We have already made some bridges and I think this decision (returning kit colour to blue) will help us us get there much faster.
"I have started meeting with the fans' group or representatives before every board meeting for them to tell us our views.
"I've got closer to the fans at games and I'd like Vincent to do that because I think he'd actually find it's a wonderful world."
Cardiff City Supporters' Trust wants further dialogue between the club and fans over the design of the new bluebird badge and the idea of having supporters' representation on the board


"The last two-and-a-half years have shown that meaningful dialogue and engagement between the club and its supporters is essential as we move forward," chairman Tim Hartley said in a Trust statement.
"We are meeting club executives next month and hope that this will mark the beginning of a new era.
"Mr Tan has mooted the idea of a supporter representative on the club's board.
"We have seen what a success having a Supporter Trust director on the board has been at Swansea City and we would like to see a democratically elected representative on Cardiff City's board

"
Swansea are the only Barclays Premier League team of the 14 league clubs who currently have fan representatives on their board, with the Swansea City Supporters Trust owning 20 per cent of the club.
The government revealed plans in October for the establishment of an 'Expert Group' of football administrators, which would examine issues aimed at giving fans a greater voice in the running of their clubs.
Labour has also produced radical plans concerning football clubs ahead of the General Election in May, saying it would allow supporters to have seats on every board and possess the right to buy a significant slice of a club's shares when its ownership changes.
Supporters would not be able to block takeovers or change corporate strategy, but could obtain financial and commercial information about the club and appoint and remove up to a quarter - and not less than two - of a club's directors.
Fans could also purchase up to 10 per cent of the shares when a club changes ownership.
The buyer acquiring control - defined as 30 per cent - would have to offer the trust up to a 10th of the shares they were purchasing for 240 days following the deal.
This option would be capped once a trust had acquired 10 per cent of the club's shares, though that would not prevent it from buying more shares if it wanted.
Source : PA
Source: PA