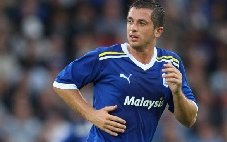 'boro made no secret that they wanted Taylor to stay in the North East with boss Tony Mowbray saying this week
"There is a bit of disappointment and frustration that he left the club. I've gone on record that I would like to have kept him.
"He is a versatile footballer. He was turning into an excellent midfielder with us and got a few goals.
"He had a natural feel for protecting that space when Joe Bennett ran past.
"He allowed Joe to flourish and had we been able to keep him it was possible to improve another player as well as himself. It would have given him a chance to broaden his own horizons.
"But he left and that is history. There's no hard feelings.
"He has gone on to play at Wembley and is at the right end of the league table so I'm sure he will be happy enough with his decision."
Taylor himself has acknowledged that the most important thing this weekend is getting three points for Cardiff.
Taylor along with his team mates flew to the North East yesterday afternoon n preparation for today's game.
"The first fixture I looked for after signing for Cardiff City last summer was Middlesbrough away," said the City left back.
"I'll be playing against a lot of mates who I grew up with, but I hope it will be enjoyable.
"It's certainly a game where I am desperate to go up there and help City pick up three points.
"We let two points slip when we drew 0-0 against Millwall in our last match.
"We kept a clean sheet and that's good, but we must start creating better chances and putting them away."
Middlesbrough v Cardiff City
Saturday 3:00pm.