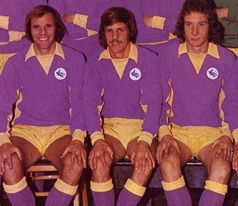 Given our opponents this weekend. there needs to be a different format for the quiz this time. So, I've gone back through our history to come up with six questions concerning games City have played on 21 January since their elevation to the Football League in 1920 – the answers will be posted on here on Saturday and, as a bit of a clue, I'll tell you the questions are in chronological order.
Name the player, who played a leading part in what is, probably, the greatest ever near miss in City's history, who scored our only hat trick in a league game on this date.
Can you recognise this scorer of a goal for us on 21 January from these clues – played for a club called Parkhead Juniors as a youth. By the time he signed for City at the age of nearly thirty, he had scored over two hundred and eighty goals for his only previous professional club. The most famous goal out of the seventy odd he scored for us saw the team it was scored against adopt a tradition that survives until this day.
The player on the ground in this picture from the mid fifties was in the City team which played on 21 January a couple of years later, who is he?
Paul Went was our scorer in a 2-1 defeat on a ground where we have played just one other league game (which was also lost by a one goal margin) since 1961 – in fact, Went is our only league scorer against these opponents in the past fifty five years, what team am I talking about?
This striker, currently playing for a Championship side that play in red, holds the following scoring records for some local rivals of theirs who play in blue – fastest ever goal, first player in forty two years to score twenty goals before Christmas and first player to score hat tricks in successive matches in eighty three years. He scored his first goal for this blue team against us on January 21, but it wasn't enough to stop yellow shirted City winning 2-1, who am I describing?
A current City player scored against us at Cardiff City Stadium on 21 January, but could not prevent his side losing 3-2 thanks to a spectacular, very late, winner by an alliterative winger, name the two players concerned.
http://mauveandyellowarmy.net/
Answers.
Len Davies (whose penalty miss cost City the league title in 1924) scored three times in a 6-3 win over Bradford City on 21/1/22.
Hughie Ferguson got one of the goals in a 2-1 win at Middlesbrough on 21/1/28 – Arsenal still insist that their goalkeeper's shirt be washed before every game after their Welsh international keeper Dan Lewis slip up allowed Ferguson to score the winner in the 1927 FA Cup Final.
Ron Howells, who played in goal for us in a 2-1 defeat at Sheffield United on 21/1/56 – the picture is from an FA Cup tie in 1954 where City were beaten at Ninian Park by Third Division (North) team Port Vale. Howells was taken to hospital following the incident in the photo after he had landed on his head on the hard, icy, pitch.
Went scored our goal in a defeat at Tottenham on 21/1/78.
Matt Fryatt scored Leicester's goal when we beat them 2-1 on 21/1/06.
Greg Halford scored one of Portsmouth's goal in their loss here on 21/1/12 before Craig Conway's winner.