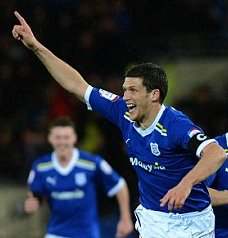 68 (sixty eight) yards the goal has officially been declared as being scored from.
It will add Mark Hudson into City folklore.
Buchannon's exocet, Millar from the halfway line and now Hudson from inside his own half.
"I couldn't believe it went in. I felt a bit of embarrassment because of the fact it went in," said Hudson.
"I'd spotted (Derby goalkeeper) Fielding off his line. I saw he was so high up because I think the ball they played down the line was short.
" I don't think their 'keeper expected it. You wouldn't, would you?
"I took a touch, the ball sat up and the fans shouted, 'Shoot'. I just thought I'd try and middle it and I caught it better than I thought I would.
"It seemed to travel. It's just one of those things. I'll never do it again."
'Shoot' is going to be a shout Hudson will hear when every time he gets the ball on Saturday when City face Leeds.
Image from www.dailymail.co.uk