Well here's what Gwyn said: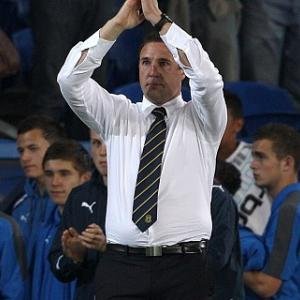 I'd like to think I speak for all of us here when I say a massive thank you for what you have brought to us.
We have waited so long for someone to bring some focus and stability here and to harness the energy that is here in abundance.
You have given us that, and much, much more, and I don't mean a cup final or a top three place, I mean a sense of togetherness and belonging that we have been crying out for.
We now have a stable base with youngsters being developed and brought through for the future; it no longer feels like a short term panic situation, I am sure our long term future is in the best hands.
We didn't want to hear that someone was here just to do a job, or that it's just another game. We want to know that it means as much if not more to our manager and players, we want to know that we are all in the same fight and on the same side.
We want to see our manager showing the same emotion as us, when we are happy, we want to see him smiling and punching the air.
When we are hurting we want to share the hurt, and we know that Malky and the team are as hurt as us, this is family and families share things.

When I look at this team on the pitch now, I don't see eleven players doing a job, I see eleven players representing and fighting for all of us, none of them look to me as if it's just a job, and how long have we been crying out for that.
People are saying, and rightly so,"even if we win nothing this year, it's the best season I can remember and the most enjoyment I have had, we finally have a team on and off the pitch, that want it as badly as us"
A team of triers that doesn't know when they are beat, and we are loving it.
The Champagne Charlie's have been flushed out and we have a team we can identify with, full of players we can feel proud of rather than embarrassed when we hear of another night on the lash type of story we got sick of reading about.

Most of us down here are simple honest people, we want to see people giving their all and trying their best, that is all we can ask of individuals, some of my favourite players over the years have been the Phill Dwyers, Jason Perrys, Scott Youngs etc, possibly not the most gifted but all 100 Per centers and proper war horses.
We now have a team full of them and boy does it feel good.
This hasn't come about by luck, it's come about through good leadership and we now have that in bucket loads.
Most of these fans here today are leaders of sorts, they organise, look after and take responsibility for thousands of fans between them, yet they will all willingly fall in behind you and gladly follow your lead in any direction you choose.

There is a saying that goes along the lines of
A flock of sheep led by a lion will outwit a pride of lions led by a sheep.
Well we are far from sheep, but we definitely have a lion leading us.
We now have our own version of William Wallace, it is obvious the players will run through brick walls for you, and as fans we feel the same.
If you want to invade England, let us know and we'll get the guns.
You tell us there is a God and we'll come to church with you on Sunday.
Your parents must be some of the proudest people on this earth, you are the man I wish I was and I'd love my sons to turn into. You handle yourself with such dignity and are an example to all of us. I know that any young player coming through the ranks down here will be all the better for being under your guidance.

You are the real deal and we can see that, we see through fakes down here and we can tell when someone is reading from a prepared script just to tell people what they want to hear, but we also know when someone says it from the heart and we know which version we are getting from you.
I am 56 and thought I'd seen it all and days of excitement were long gone, but I'm like a ten year old, I get to the ground early and at away games even if it's a five hour trip home, I will hang around until you come out and give your wave to the fans.
It can't be a coincidence that the atmosphere as gone up ten notches since Malky has come here, the club had previously been appealing to the fans to get behind the team, yet at the time we had a manager who would spend the match leaning against the wall with his hands in his pockets looking like he wanted to be somewhere else.
Well we know where Malky wants to be, and it's on the pitch kicking centre forwards and we love watching as you kick and head every ball from the touchline. You show the passion and enthusiasm that we as fans share and it means the world to us.
When you are interviewed you handle yourself with such dignity and are an example to all of us, previous regimes have been run on a blame culture that pointed the finger at everyone and everything rather than deal with it in a dignified manner as you tend to do.
Humble in victory and gracious in defeat, it's the new way forward.

I hope you and the players know how much that means to us, no matter if the result has gone against us as long as people have given their best, win lose or draw we are all in it together.
You are destined for greater things, and I just hope you take us with you.
There is no doubt an Arsenal or Man United will come calling for you one day and rightly so, but I know deep down nothing would give you more pleasure than creating your own Man United or Arsenal from scratch, and you can do that here, it is all falling into place and history is being written.
We have had some hard times at this club, we fans have earned our stripes, we have been more than patient, but I genuinely believe our patience is now being rewarded.
Malky, on behalf of all of us at the club, I want to thank you from the bottom of our hearts.