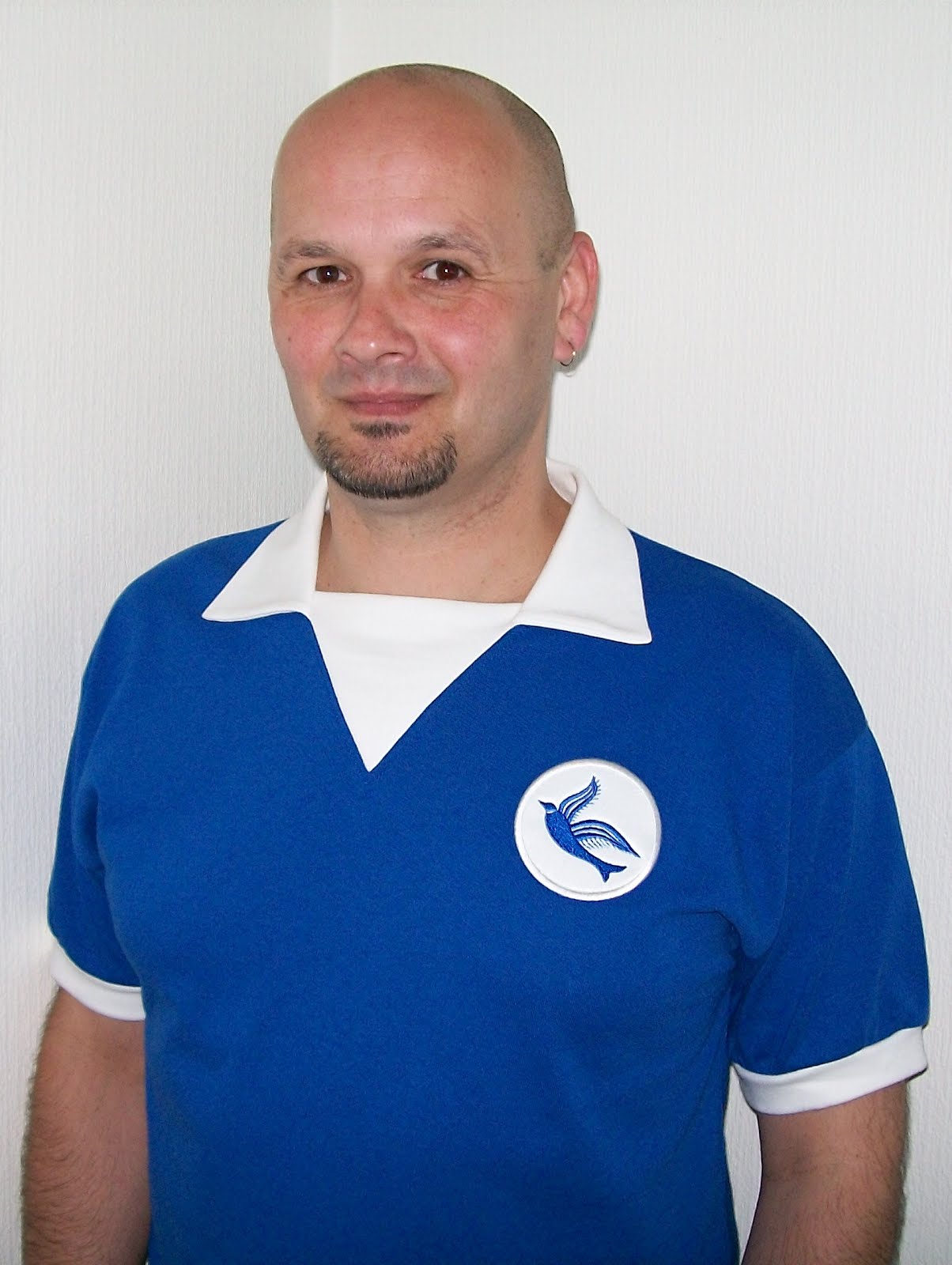 I chose to wear this shirt. It's a replica of the one that Cardiff City's players were wearing when my father took me to Ninian Park for the first time in March 1975 on the day before my eighth birthday.
Sheffield Wednesday were the Bluebirds' opponents on that occasion. The Owls were rock bottom of the Second Division table, while City were just one place above them. Predictably, the match ended in a goalless draw. The crowd of 6,621 jeered, slow hand clapped and chanted 'what a load of rubbish' at regular intervals throughout the ninety minutes. Midfielder George Smith ripped off his shirt and threw it at manager Jimmy Andrews after being substituted. His replacement, Johnny Vincent, missed a late penalty and City were booed off the field following the final whistle. Both teams were relegated to the Third Division a month later.
It was a pretty grim start to life as a Cardiff fan all things considered, but the side did contain three players who are high in the rankings of my all-time favourite Bluebirds. The men concerned are Phil Dwyer, John Buchanan and Willie Anderson. Not exactly the greatest trio of footballers this planet has ever produced, but every one a legend as far as I'm concerned. Tan Sri Vincent Tan won't recognise those names. He never saw any of them play in the blue of Cardiff City. Indeed, there aren't too many players he has seen play in the blue of Cardiff City. By all accounts, Mr Tan didn't see his first game of professional football until May 2010 and he's only seen a handful of games since then. Nevertheless, the Malaysian overlord has today dictated that the club I have loved since I was schoolboy should radically alter its identity. The claim from the club's subservient board of directors is that the bizarre changes they are implementing are necessary in order for the Bluebirds to reap future financial rewards from a worldwide commercial market. And if you believe that load of nonsense, you'll believe anything.
Cardiff City is a mid-ranking Championship club that recently managed to sell just 23,000 tickets for a play-off semi-final against West Ham United. Under the circumstances, perhaps a commercial marketing strategy in South Wales might be more appropriate.

As far as I'm concerned, a significant part of Cardiff City Football Club has died today. During the last thirty seven years, I've firmly nailed my colours to the mast and those colours have always been blue. According to the club's owners, the future is red. I wish them well with that, and with their attempts to generate fire and passion. I just hope the supporters don't end up getting burnt by this particular dragon
http://thelonegunmanblog.blogspot.co.uk/2012/06/malaysian-overlord-strikes-on-d-day-for.html