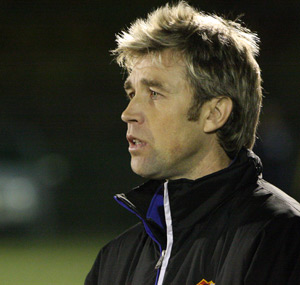 Euro 2012 is just around the corner and yet again Wales will not be represented in the tournament. Wales haven't qualified for a major tournament since the 1958 World Cup in Sweden and that is simply not good enough. Not even the great Welsh sides that included Ian Rush, Neville Southall, Mark Hughes, Kevin Ratcliffe and Dean Saunders could reach the biggest stages in the world game.
However, Welsh football has come on leaps and bounds in recent years and as a country is starting to make a name for itself. The national side has climbed from 117th in the FIFA world rankings to 41st where they currently stand in less than a year. This is an amazing achievement and former Cardiff, Swansea and Wales international Andy Legg (pictured) believes Welsh football is starting to get recognised.
"I think it's been a good time for us both domestically and internationally," said Legg. "I think we've certainly raised the profile of football in our country at the moment and things are looking on the up.
"Wales has always been known as a rugby nation but I think football is catching up with it. You just have to look at how high attendances are at club level nowadays."
Many fans would say that the country's international football took a blow when John Toshack took the helm and it can be seen why. The manager's style of football was far from exciting to say the least, often playing five defenders and two holding midfielders with a very negative approach towards the game.
Many people fell out of love with Welsh football at this time. Games were so boring that fans would participate in Mexican wave after Mexican wave and the atmosphere and attendances dropped massively in what became a soulless Millennium Stadium.
However, Toshack is partly to thank for Wales's recent success. He set the nation up for the future by creating a very young squad with the likes of Aaron Ramsey, Gareth Bale and Joe Ledley and this paid dividends when the next manager took charge. That man of course was the late Gary Speed.
Speed instilled a belief back into the team and has to take a lot of credit for Wales's recent rise up the world rankings. When he took over the nation had reached an all time low, down with the likes of Haiti in 117th place and over the course of a year he took Wales into the top 50. Left-back Legg played six times for Wales and feels Speed's good work must be continued by current manager Chris Coleman.
"They've done extremely well when Gary was in charge," he said. "Gary certainly started the job and hopefully Chris can continue that. I for one was pleased that Chris was named as manager as I like a Welshman to be in charge of our national side and I thought Chris fitted the bill.
"He's the same sort of mode as Gary. He's young, had a bit of experience in the league and he's ambitious and hopefully he can take us forward and continue the work that Gary started."
Wales were once hailed as one of the best supported nations in Europe, averaging crowds of more than 60,000 on a regular basis when Mark Hughes's team reached the Euro 2004 play-offs. However, a lack of attendances since then has led the FAW to shun the Millennium Stadium of late in favour of either the Cardiff City Stadium or Swansea's Liberty Stadium.
This move has proved beneficial, creating a better atmosphere during games and attracting bigger crowds and it is no coincidence that this is also when the team is playing its best football. This trend of using these stadiums looks set to continue when Wales attempt to qualify for the 2014 World Cup. They are in a group with Belgium, Serbia, Scotland, Croatia and Toshack's Macedonia, and Legg believes Wales have a good chance of reaching their first tournament in 56 years.
"I'd certainly like to think that we can qualify," said Legg. "I hope so anyway and you never know. We've certainly got potential and started building a decent side and achieved some decent results over the last couple of games we've played.
"Things are looking promising it's just whether we can continue that and hopefully we can. We're a small nation and we haven't got that many players at our disposal but hopefully they can keep a fit squad together and they can challenge in the group and reach the World Cup in Brazil."
Welsh football has also taken massive steps forward domestically recently. Cardiff City were in the old Division Two 10 years ago and little was known of the club outside of South Wales. However four Wembley appearances including an FA Cup final in 2008, playoff final in 2010 and the Carling Cup final this year has helped raise the status of the Welsh club massively.
That coupled with the fact that they have been a Championship outfit since 2003 and have finished in the playoffs for the third consecutive season show that Cardiff City football club has come a long way. The Bluebirds lost 12 players in the summer along with their manager and backroom staff which makes the achievements this season even more impressive. Legg made 175 appearances for the club and believes Malky Mackay has had a strong first season in the Welsh capital.
"The club definitely needed a breath of fresh air after the poor end to last season and Malky was that and he's done brilliant," said Legg. "I think Cardiff have done fantastic. I think realistically the hardest Cardiff fan probably at the start of the season wouldn't have thought that they'd get the playoffs this year. I thought they'd be happy with survival this year with everybody going in the summer so they've far exceeded my expectations.
"I think they've surprised everybody and it's a shame they couldn't just get over that finishing line. I think they've had a terrific season getting to the Carling Cup final as well which is a great achievement. Cardiff have overachieved in my opinion and nobody expected it but we're all pleased about it."
The Bluebirds have seen arguably the biggest transformation in recent years for any club, except for perhaps big spending Manchester City. They have moved to the Cardiff City Stadium, have new training facilities, new ambitious owners and a youth academy that has produced quality players such as Aaron Ramsey, Joe Ledley and Adam Matthews to name but a few and Legg believes it won't be long before the club are in the top flight.
"I think everything at the club is now geared towards the Premiership," he said." Off the field as well as on the field things are progressing and hopefully Malky can take his side one step further next year and they can actually get over that finishing line and get into the Premiership and join Swansea. I'm sure they will before too long because they're now a big club.
"I think off the field as well you look at what Dave Jones put into place with the training pitches and the facilities they've got now compared to a couple of years back. It's definitely geared towards the Premier League there."
The strength of Welsh football is furthermore shown through Swansea City's recent exploits. They became the first Welsh team to play in the Premier League when they won promotion through the playoffs last season, their third promotion in as many years.
The club have been compared to Barcelona because of their fluid style of play and could yet finish in the top half of the Premiership in their first season. Legg made over 150 appearances for the Jacks and believes the club have also played a big part in making Welsh football known.
"I think Swansea have been absolutely fantastic," said Legg who scored 29 goals at the club." I think they've raised the profile in Wales as well because of the football they've played. Brendan has had them playing that brand of football that is really good and pleasing on the eye and they've played really well this year and got some great results. They've beaten Arsenal and Man City at home and drawn with Tottenham too.
"It's incredible really where they've come from. I think the futures bright there and a lot of fans where I'm living in Nottingham all speak about Swansea and the brand of football they play so they've made themselves a good name in the Premier League this year. It would be nice to have both Welsh clubs in the Premier League and to see a Welsh derby there would be amazing."
Football in Wales has come a long way but as a country they still haven't reached a major international tournament since 1958 and breaking this qualifying drought has to be the next target. Will the current crop make it to the 2014 World Cup under Chris Coleman? We'll see...
James Harris