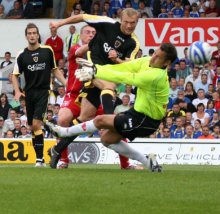 Click image for full size picture
Robbie Fowler started the pre season friendly against FC Twente but he was only able to mamager 25 mins before being subbed.
Feeney came on for Fowler and scored a minute or so later (right). The goal turned out to be the only one of the game as City and Twente largely cancelled each other out.
Our continental opponents were comfortable passing the ball over over the place but despite having a several players 6' and more in height they never really threated in the box.
City were able to put more efforts towards the visitors goal but a lack of height sometimes ruined good oportunities created by the impressive Trevor Sinclair.
The two main concerns from the game will be the injuries to Robbie Fowler and to Glenn Loovens. Fowler is desperately short of match fitness. I think his withdrawl was a substitution waiting to happen. He had to start the game after over 8,500 supporters turned up to see the new boy. Loovens immediately signalled to the bench when he was injured when getting involved in a tackle that was not neccessary for a pre season game.
The keeper Turnbull made his debut and did nothing wrong, in fact he didn't really do anything at all such was the ineffectiveness of the Twente attack and the solid performances of Loovens and Johnson. Providing Loovens is OK I think they will start against Stoke next week.
A win is a win, pre season or not it meant that we could walk away from Ninian Park with a smile.
In my opinion Dave Jones needs to get a bigger striker as an outlet for Sinclair and to be able to vary the play a bit. Fowler, Feeney and MacClean and all of similar size but in credit to MacClean he was able to mix it with the big defenders and created one excellent chance for himself but the keeper saved when MacClean went through one on one.
Next up it's Stoke City and the start of the 2007 / 2008 season.