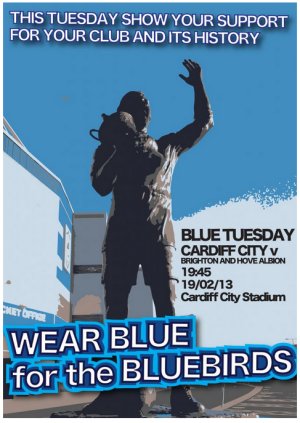 While arguements online have raged all season about the rebrand at the stadium the 22,000 fans that turn up every week have given 100% support to Malky and the team. And boy have they delivered. Clear at the top of the table with matches running out and promotion a very realistic possibility.
Those who don't like red but still fully support the team are still turning up week in week out and the mix of fans wearing blue and red in the ground has been harmonious. But it seems there's not enough red hence the big give away.
The club see it as a generous gesture to thank the fans for their support but to many it looks like an attempt to increase the amount of red in the stadium when it's obvious on matchdays that in the crowd at least red is not the lead colour.
This has led to a quickly organised Wear Blue for Cardiff campaign to encourage fans to wear the traditional colour of the Bluebirds and not be tempted by the red scarf and the lure of a potential free season ticket if photographed wearing one.
At a time when the continued support for the team is paramount as Malky leads them towards promotion I find the re-igniting of the red v blue split poorly timed and I hope the off field arguements do not affect the morale on the pitch which has been superb.