Neil Warnock
"It was nothing I wasn't expecting, we know exactly how tough this league is. You have to take your chances and I thought we had chances to kill the game. We didn't take them and poor defending at the other end has cost us dearly.
"They scored some cracking goals but they were poor defending from our point of view. They were preventable goals, and that's something we have to learn from. I think one or two questions were answered today, if I'm honest, in my own mind. I'm so disappointed because I thought it was a game we could have got three points from, never mind one."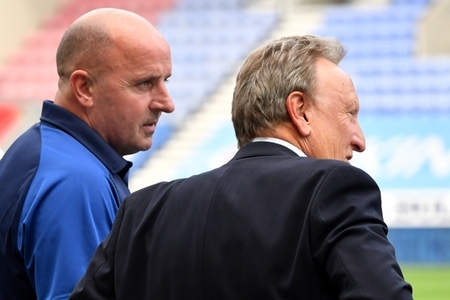 Paul Cook
"We're delighted to start with a win. If you'd asked me at 10 past three last Saturday - when we'd just gone 2-0 down at home against Burnley in our last pre-season friendly, and we couldn't even lift a leg - that we'd win an enthralling game like this first up, I'd have taken it.
"It was two teams who were genuinely trying to win a game of football. The game had everything and sometimes as a manager, you count yourselves fortunate when you come out the right side of a game like that."