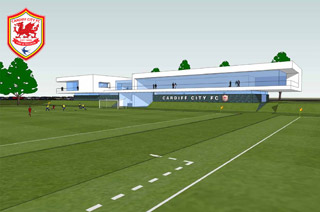 Part of the further money to be invested by Vincent Tan will fund a new, purpose built, Cardiff City owned training complex.
Alan Whiteley told the official website:
"For any club with large scale ambition, first class training facilities for preparation, rehabilitation and development and nurturing of young talent are a pre requisite," he said. "Our existing facilities developed in conjunction with the Vale Resort were a major step forward for the Club when initially developed and we are grateful to the owners of the Vale for all their support to date. However, we believe firmly that the time is right to take our training facilities to the next stage.
"We have been working closely with Malky and his back room staff to put together a blueprint for a state of the art world class training facility, encompassing full size training and show pitches, warm up and goalkeeping areas and all weather pitches as well as a full physiotherapy and rehabilitation facility incorporating the latest in medical thinking. It is intended the facility will attract other sports and teams, both domestically and internationally to use the facilities.
"We are currently looking at a number of options for the location of the new facility, either as an expansion of the existing Vale development, or at an entirely new location within the City. We have already held extended discussions with the Council with regard to the plans, and they are supportive of our objectives as they fit well with the Council's own plans to make Cardiff a super hub for sporting excellence.
"This is a substantive investment and commitment and will help to put this football club firmly on the map, demonstrating the scale of our aspirations. Alongside our existing and brand new Academy facilities, it is hoped this will give the club the best chance of attracting and developing its own future first team players."
More images available via http://www.cardiffcityfc.co.uk/page/Home/0,,10335,00.html