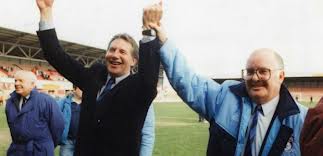 The innovative chairman (pictured on the right) was at the helm of Cardiff City when they won the old Barclays League Third Division title in 1993 with manager Eddie May (pictured on the left).
Wright suffered a stroke and never recovered and died in Australia aged 81.
His promotion of the Junior Bluebirds led to a greater fanbase and he implemented dynamic pricing based on League position.
Wright's daughter, Martine Leben, told Wales Online he had been fragile for the past nine months after a stroke in March.
She added: "Unfortunately Rick had another massive stroke 12 days ago.
"He fought it for a few days and so we were able to tell him about the Blackburn Rovers result. He gave a hand squeeze and then a huge smile at hearing Cardiff City were still top of the league – the only place he ever accepted being."
Rick Wright RIP.