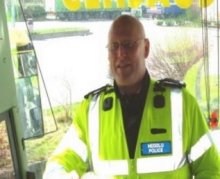 He was a former Cardiff City and Wales police football liaison officer and recently worked on security for the Olympics.
After his retirement from the police he joined Cardif City as deputy safety officer.
Mr Insole, 47, collapsed while with his family at Barry Island on Thursday and was pronounced dead at hospital.
Simon was hugely respected by Cardiff City supporters and his loss has come as a massive shoock. Our thoughts go out to his family at this tragic time.
Statement from Cardiff City FC.