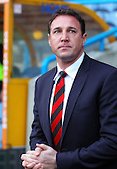 Reports on Thursday suggested that Yilmaz Vural, a manager from Turkey who has been in charge of more than a dozen Turkish sides, is being lined up as a possible new manager for Cardiff City.
He told turkish-football.com "It wouldn't be right for me to say anything while the club in mention [Cardiff City] have a manager but we have been in contact" Vural said.

"Also I have been approached by two clubs in the lower league, it's a case of waiting now."
This will be the last thing Malky Mackay needs as he prepares his side to face Premier League leaders Arsernal tomorrow.
He said this morning:
'it doesn't concern me in the slightest. I have a job to do for Cardiff City and am focused on that. My responsibility is to my team and our supporters.
'My players have put in a huge amount of effort for Cardiff City over the last two and a half years. Our late equaliser against Manchester United again showed the fitness levels, character and never say die attitude we have. I am proud of them.'
Througout the whole off field debacle Malky has remained focussed on his job and is getting results with the win over Swansea and a draw with Manchester United. His stock will rise further if City can get something from Arsenal as well.
Whoever is pulling the strings behind the scenes to make things uncomfortanble for Mackay (and I think we can probably guess) should be backing their man and supporting him, not undermining him all the time.