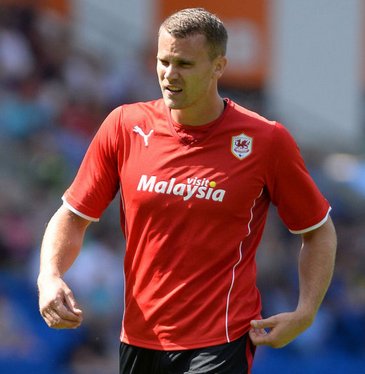 Ben Turner has played in every City league game this season alongside Steven Caulker. Turner's form has kept Mark Hudson on the bench and today Turner faces one of the best strike forces in the country.
Providing he's passed fit Robin van Persie, along with Wayne Rooney will be the attacking force that Turner and Caulker will have to deal with.
Turner believes thatvan Persie and Rooney have the best strike partnership in the Premier League.
"If I was picking then I would probably go for them purely because they are tried and tested," Turner said.
"They know that they're world class, they know their jobs.
"There's obviously other strike partnerships that potentially could be on that level.
"But I don't think there's a strike partnership with that much experience and that many Premier League goal already in the bank.
Turner has played against and beaten Man Utd before. His Coventry side won a League Cup tie at Old Trafford in 2007. Now in 2013 he faces a bigger test in the Premier League against the League Champions.
"Looking at the names Man Utd could put out it's exciting for everyone in the back four because it's a real chance to test yourself against the best. We don't have much to lose.
"It's not just this week, but every week there's a different personal challenge. I feel like every week I'm on trial
"I don't see it as the biggest test, I see it as a different test. Whether it's a bigger test than the Man City game and the Tottenham game I'm not sure.
"But it's a massive test, I accept that."
Cardiff City v Manchester Utd
Sunday 4pm