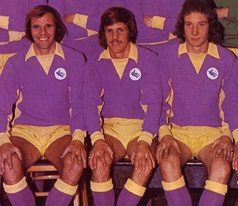 Hours of heavy rain and the lack of any covered areas pitchside at the Vale had convinced me to give yesterday afternoon's Under 21 Development team game with Hull a miss, but in the hour before kick off, the rain eased and, by the time the match started, it had stopped – indeed, conditions improved so much that there was bright sunshine by the time it ended.
So, was my late decision to make the short drive to Hensol Castle worthwhile? I would say it was, the Under 21s took their unbeaten run to ten matches as they edged a tight contest 1-0 against opponents who stood in third place in the competition's Northern Section with an almost identical playing record to City's.
That similarity in records always pointed towards a certain type of match though and that was exactly how it turned out – the teams were evenly matched and City had to dig really deep as Hull were left, no doubt, feeling that a draw was the least they deserved after a strong second half showing that saw them dominant in terms of possession and territory.
Whether anything dramatic happened in the opening minutes or not, I cannot tell you because when I arrived it was immediately obvious that the match was not being played on the pitch that had always been used for matches I had watched at the venue previously. With no one representing the club around to ask, I began to think the game had been postponed, but I was aware that there was another pitch about a five minute walk away and someone among the small group of people who had congregated by now was able to confirm that this was where the match was being played.
Now I know the numbers that attend matches like these are small, and most of those who do are relatives/friends of someone who is playing, so you'd assume they'd be aware of the change of pitch from normal. However, with the club's Twitter feed for this level telling supporters that they were welcome to come along and watch, you would have thought they could have given the alteration a mention. As it was, any one not too familiar with the venue could easily have got straight back into their car and driven home in the belief the game had been called off for some reason, while making a mental note not to bother coming again.
Once I got to the match, it didn't take long to figure out that, with one exception, it was pretty much the team that had become the norm in recent weeks being used. That one unexpected player I mentioned was Ben Turner who was making a return after his latest lengthy injury absence and would, doubtless, have been pleased to come through seventy minutes of playing time, seemingly, unscathed.
Assuming that the few minutes I had missed were similar to what I saw for about twenty minutes after I arrived, Ben was given a pretty gentle welcome back to playing action. Goals or even goalmouth action in the opening minutes have tended to be conspicuous by their absence at first team games this season and that's often tended to be the case at the other levels I've watched us play at as well – it wasn't until the match entered it's second quarter here that it moved beyond the cagey sparring stage.
It was City who first threatened a goal when a fluent move down the right produced some room for full back Dylan Rees to put over a fine cross which was met by Rhys Healey – the striker got a decent contact on the ball, but his header was too close to visiting keeper Watson to cause him serious problems.
The minutes which followed generally saw City playing their best football of the game, but, even then, Hull had their moments, notably when Ben Wilson had to move sharply to keep out a well struck effort from around twenty five yards.
City were generally looking the sharper team though and, after a Turner header from a Jamie Veale corner had been hacked clear just before an attacker could get to it, they took the lead in the thirty fifth minute.
Although it was Healey who ended up putting the ball in the net, great credit has to go to two other younger members of the side for their part in the goal. First, Robbie Patten's clever pass "nutmegged" an opponent to give left back David Tutonda his first real chance to get forward. The Hull right back obviously thought he was favourite to reach Patten's pass, but he wasn't the first player at this level to misjudge Tutonda's pace and power and I doubt very much if he'll be the last.
Having burst clear of his opponent, Tutonda had forty yards or so to run into and impressed again with his composure as he got to the bye line and then made the right choice by pulling back a low cross which Healey finished efficiently from about eight yards out.
Hull came back with a header not too far over the bar, but City were playing well now and a lovely passing movement almost get the reward it deserved when Kadeem Harris' effort from twenty yards was well turned aside by Watson.
There were a few more close shaves for the visitors before they reached half time with a deficit which was probably a fair reflection of the balance of play, but they will have been grateful not to have been further behind given City's growing supremacy as the minutes ticked by.
However, the balance of power was to change after the interval as Hull, looking sharper and more powerful than their opponents, had much the better of the second half. City, with their midfield diamond formation seeing their possession dry up, were forced to play on the break and it was only in the closing stages as Hull pushed further forward in their search for an equaliser that there was even a suggestion of a second home goal.
Most of the time, City were forced to defend, but with Turner's experience proving invaluable at times, they were generally able to cope fairly comfortably. An exception to this came when a good through ball split the centrebacks to give one of Hull's forwards a clear run in on goal – it looked a certain equaliser, but a superb sprawling save by Wilson preserved the lead.
When Turner made way for Rollin Meneyese with twenty minutes to go, the youngster settled in well alongside an impressive Jordan Blaise, but Hull stepped things up in the last ten minutes as they forced a series of corners. One of these was met by defender Ben Clappison whose header was kept out by a combination of Wilson and an upright and another was missed by the keeper before the ball was desperately scrambled behind by the defence as it bobbed about a yard or two from the goal line.
Hull's corners also offered City counter attacking opportunities if they could get the sort of controlled possession that was mostly denied them in the second half and they wasted a three on two break before Harris decided to go solo and was only denied by another fine Watson save after a thrilling sixty yard run.
With Macauley Southam exemplifying City's.work ethic in defence, they were able to do a pretty good job of running down the clock to hold on to the win which leaves them clinging on to second spot by their fingernails after a 4-2 win for Millwall over Barnsley left the two teams level on points and goal difference with only goals scored to separate the two teams – a win for fourth placed Colchester leaves them still firmly in the hunt as well as this up to date table shows..
The second half had been a real slog and it looked to me as if the recent relentless cycle of two matches a week in a competition where it is not too unusual to go a month without playing, had caught up with a few of those who have been regulars in the team recently.
If I'm right in thinking that, then a match at Watford on Thursday, followed by a trip to Northern Section leaders Huddersfield next Monday are going to test stamina levels to the full before regular season fixtures are completed with a rearranged home match against Palace for which a date had not been announced yet – even if they fail in their quest for a place in the end of season Play Offs, it's been an excellent second half to the campaign for Kevin Nicholson's team.
*picture courtesy of http://www.cardiffcityfc.co.uk/news/