Cardiff City announced at 5pm today that Neil Warnock's reign as manager had ended. It followed the disappointing home defeat to Bristol City yesterday and just two weeks after the loss at Swansea.
Warnock was due to leave at the end of the season anyway but the magic that took the club to the most unlikely promotion in 2018 was on the wane and while sad for it to end this way it might be for the best.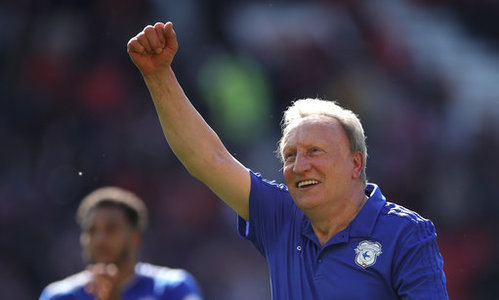 Neil Warnock in just three years has made himself a legend at the club and produced some great memories for Cardiff fans to hold on to. Superb victories on the way to promotion capped off with a day out at Hull that was up there with one of the best away trips I have ever been on.
And then a season in the Premier League where the club almost survived against all the odds including a final day victory at Old Trafford over Manchester United (pictured).
It's been an incredible three years, he took over from Paul Trollope with relegation to League One a possibility and 20 months later enjoyed promotion to thr Premier League.
The club grew into the division and gave themselves a chance of staying up but the tragic death of Emiliano Sala affected Warnock. Cardiff went down and while the Championship season is not over already there has been a feeling of under achievement this campaign and a number of boos at the final whistle yesterday probably help the decision to call it a day.
Thank you Neil. You came and rescued our club and gave us memories that will last forever
Warnock himself said "Today I am leaving my beloved Bluebirds after over three years of which have been some of the best days in my long football career. I would like to thank Vincent Tan and Ken Choo for their support; Victoria my secretary who has had to look after me over the years; Kevin Blackwell and Ronnie Jepson, my ever-faithful sidekicks and friends; and all the backroom staff on both the coaching and the medical sides who have worked tirelessly to help us achieve the success we have had. A special mention also to all of my players, past and present, who have given me everything. Thank you, you're a great bunch.
"I would especially like to thank Mehmet Dalman whom I have said many times has been one of the best Chairman I have had the privilege to work for. His support has been immense, especially in 2019 which for many reasons both on and off the field has been the most challenging period both emotionally and physically that I have ever encountered.
"It is a shared belief that this is the right time for a new voice as we believe this squad of players is more than capable of getting success. Finally, I would like to thank all you supporters for getting behind me and the team. I hope you have all enjoyed the journey. I am proud to leave the club as a united one and long may you all achieve the success that you deserve. Be lucky."