Cardiff City manager Neil Warnock has accused Manchester City boss Pep Guardiola of talking "hot air".
Complaining to the body responsible of referees, the Premier League leaders cited nine challenges this season they say have not been suitably punished.
One of those was by Cardiff's Joe Bennett on Leroy Sane in an FA Cup tie.
But after City's Fabian Delph was sent off against Wigan on Monday, Warnock said of Guardiola: "It was just talking for the sake of talking."
'Delph's tackle was 10 times worse'
Warnock made clear his view that Bennett's challenge was not as bad as Delph's.
He added: "Blowing hot air out of your mouth. Has he never seen Delph tackle like that?
"I thought Delph's tackle was 10 times worse than Bennett's but nothing much was said about it.
"You just have to accept the big clubs rule the roost with a lot of things."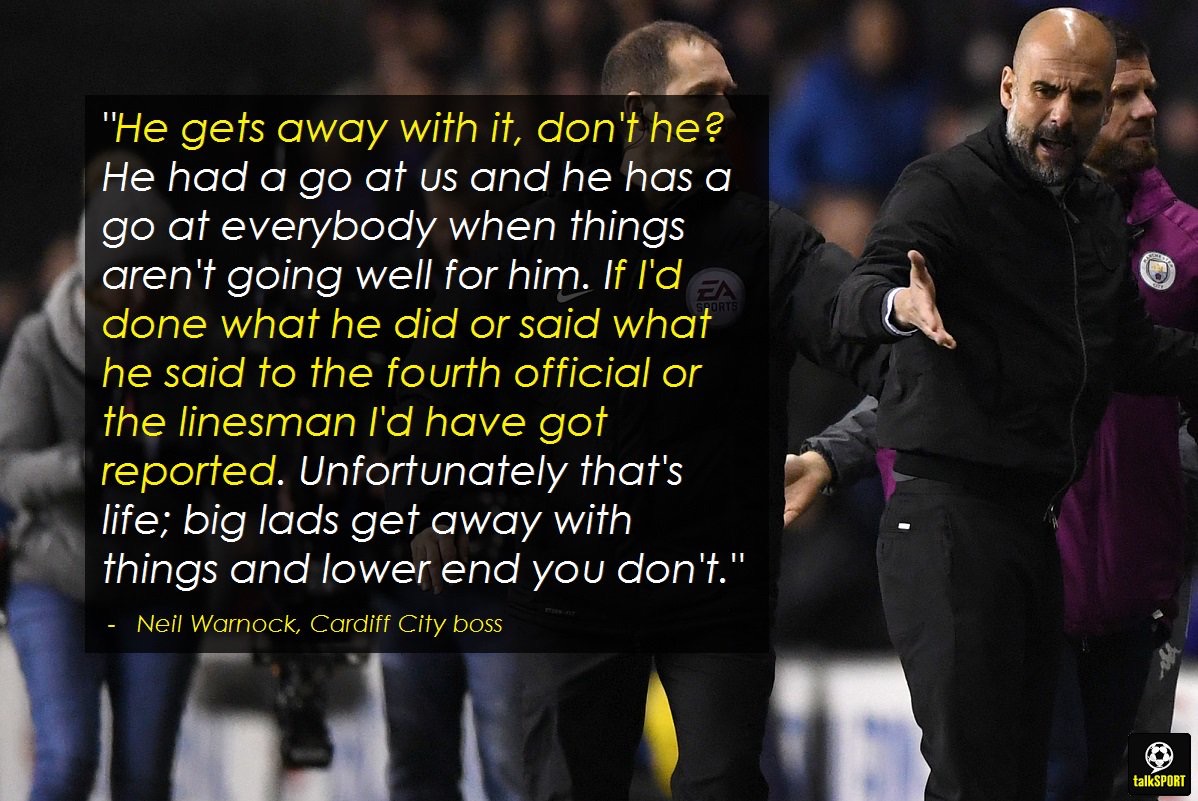 Bennett was sent off during Cardiff's FA Cup defeat against Manchester City for two bookings - the second of which he received in added time at the end of the game - but he was fortunate not to have been shown a straight red card for his foul on Sane in the first half.
Referee Lee Mason was widely criticised for not sending Bennett off for the studs-up lunge which was expected to keep Sane out for six weeks, although the German returned to action just 16 days later.
Bennett has since apologised for the tackle, while Delph was sent off for a foul on Max Power as City suffered a huge cup upset as they lost 1-0 at League One Wigan.
'Pitch invasion was a disgrace'
Monday's tie proved to be controversial, with Wigan saying they will work with the Football Association and police to review the pitch invasion after their win.
City's Sergio Aguero had an altercation with a fan after the FA Cup tie, while supporters ripped out advertising boards and threw them towards police.
Warnock condemned the pitch invasion but sympathised with Aguero, having endured a similar experience when his then Crystal Palace side lost a Championship play-off semi-final against Bristol City at Ashton Gate in 2008.
"I thought it was a disgrace, an absolute disgrace," Warnock said of the scenes at Wigan on Monday.
"They obviously didn't anticipate that they could win the game.
"You can't stop pitch invasions if you don't have enough stewards and with the costing coming out of the gate, there's no reason why you don't have enough stewards."
Speaking about his experience at Ashton Gate, Warnock added: "They were spitting at me, punching me, flashing elbows at me and calling me all names I couldn't repeat and it was the most difficult five minutes to get off the pitch I've ever had. It was frightening.
"Unless you've been in that situation I don't think you can understand where Aguero is coming from because it is frightening, you fear for your safety and then you lash out.
"I had two stewards and they were worse than me, I think I was protecting them. It was the most frightening experience I ever had."