Cardiff City's 2 - 1 win over Barnsley on Tuesday evening was an massive result as the teams just below the Bluebirds put in commanding performances to keep the pressure on. With Villa and Fulham registering 3 - 0 wins Cardiff's three points kept the club clear in second place.

Neil Warnock: "I thought they were fantastic, against a physical Barnsley side; this could be one of our most satisfying wins of the season in the circumstances.
"Perhaps we didn't make things easy tonight, but overall I was very proud of them.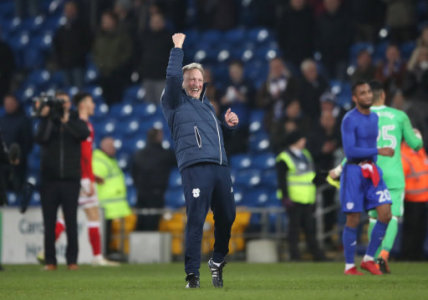 "I said the last 20 minutes would define our season because they had their tails up and we were all at sea. If we can just keep ticking along, there are only 11 games left. If we get through to the international break and get players back then we will go from there.
"We've got nearly an entire team in the stands at the moment, haven't we? To win a tough game like that without the likes of [Sean] Morrison, Aron [Gunnarsson] and Joe [Ralls] is credit to those who are out there and, to be honest, we shouldn't get too down on our injuries and just focus on those we have available. We're fortunate to have such an excellent bunch of lads available to us."

"I think Wolves will still be quietly confident and Aston Villa and Fulham are favourites to go up. We will just tick along quietly. I have a great bunch of lads. I can't fault the effort. But people can't ever accuse our team of being physical after what we have seen."
Jose Morais: "We were unlucky with the way things went. We had a penalty which wasn't given, we scored a goal and then had other opportunities but we couldn't score again. The opponent is second in the league and are a candidate to be in the Premier League next season and if we had started better, I believe we could have got more than we did.

"I am positive and I can be proud of how the players played the game and the attitude they had, especially in the second-half. I have a very positive outlook for the future."