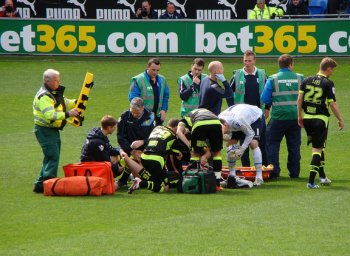 Bromby fell to the floor in agony during the first half and immediately the medics were on the pitch to tend to him and administer oxygen.
The seriousness of the situation was apparant immediately and the swift action of the staff coupled with the support from the fans drew praise from the Leeds manager who said.
"Leigh has ruptured his patellar tendon. He hasn't gone to hospital because he won't save anything now. He will have an operation next week.
"He will be out for a long, long time - I'd be surprised if he is back before Christmas. It could be a year. I'm gutted and disappointed for him because he has just come back in the team and done well.
"He was in agony and required oxygen because he had passed out. But the Cardiff fans were fantastic. They were very supportive straight away and the ref showed he knew what he was doing. I want to say a big thank you to everyone for the way they reacted."
Good luck and best wishes to Leigh Bromby.