Neil Warnock met the press on Wednesday morning (seems crazily early for a weekend game) but we are playing on Friday night rather than Saturday.
City's press conferences are usually on a Friday morning whether we are home or away on the Saturday.
This is what the new boss had to say:
On his first game in charge on Friday
"When they get vocal at Cardiff it's as good as anything I've heard in the game.
"I've been thrilled with the response [from fans], and I'm excited for Friday. There's a little bit of trepidation obviously, but I just think at this stage of my career I've just got to do the best that I can.
"Let's progress together."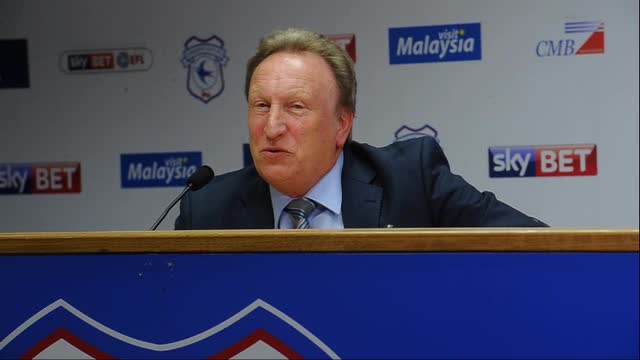 On the new signings:
"The opportunity to bring the lads in was too good to turn down, they'd have gone elsewhere if we hadn't moved quickly.
"We've got one or two niggles in the squad, the likes of Rickie Lambert.
"With Sol Bamba, I felt we needed some more leadership in there and I've seen him play midfield too, so that's another string to our bow."
On the squad:
"They're a very genuine bunch of lads, there's a lot of quality. There's an imbalance in certain areas but they've all been receptive.
"Today and tomorrow will be most important because we've not had much of a chance to work on tactical things. They've shown a willingness to learn."
What's the plan?:
"It's just about getting up the table. If you'd told me a couple of teams in the bottom six now would be there at the start of the season I'd have said you were going round the twist.
"We've got to find a system that gets results, but I want the players to enjoy it and for the fans to feel like we're giving them value for money."
Warnock then confirmed that Sean Morrison wil stay as captain and he said a final word on Friday's huge game that will be live on Sky in front of over 20,000 people
"It is a great stadium when it's got that atmosphere, I'm sure Bristol City fans will give me a good welcome! We can give them a good game."