Are the top clubs looking over their shoulders after Cardiff City's best week of the season?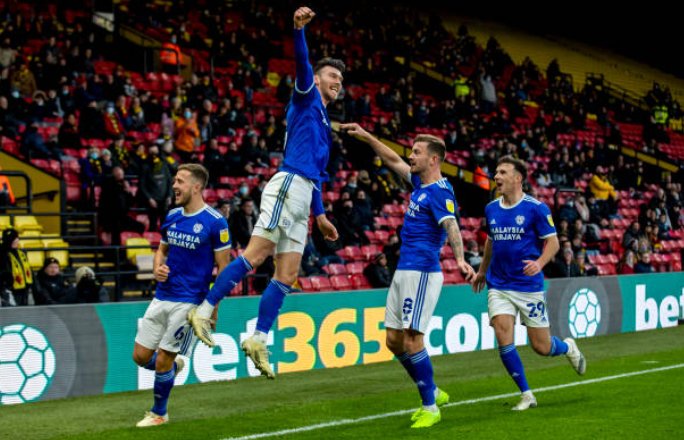 Although the mood had undoubtedly been lifted following Cardiff City's big wins over Luton and Huddersfield in the past week, it had been noted by some City fans that, out of the five sides we'd beaten up to now, only Nathan Jones' Hatters were in the top half of the table going into this weekend's fixtures.
Much had been made of the run of six matches we faced following the Huddersfield victory where five of the sides we were due to play were in the top third of the league – clearly, we were facing our most testing sequence of fixtures of the season so far, but our record against sides near the top hardly inspired confidence.
We'd played four teams who it could be said were well in the hunt for a top six place at this early stage of the campaign at home – I didn't see the Reading match, but the general view of both media and supporters from what I can gather was that their 2-1 win was a deserved one. Therefore, I think I'm right when I say we played a lot better in the 1-1 draw with Bournemouth even though I had the visitors down as the better of two good looking sides in what I'd say was the most entertaining match we've been involved in so far. A few days later, I thought we just about deserved to beat a Middlesbrough team that, from what I can remember, scored from their only worthwhile effort on goal and then there was the 1-0 loss to a Bristol City side that scored at the start and then defended well after that, but we should have got a point out at least from the match because, in the first half in particular, we had plenty of chances to score.
So, in general, our performances when we've faced the better sides have been pretty good, but our results haven't and that was a worrying combination when you consider that, before today, we'd not faced anyone of much consequence away from home as far as the top of the table is concerned.
Blackburn in ninth going into this weekend were the only side we've played on their own pitch who were in the top half of the table and to go there after they'd recently won matches by 5-0 and 4-0 and get a goalless draw after being reduced to ten men for a significant portion of the match was a noteworthy achievement, but the upcoming trio of away games against Watford, Stoke and Norwich could all be said to represent stiffer tasks.
All three of the relegated teams from last season have lost significant players from their Premier League squads, but, in my view, the much shorter than normal gap between one season ending and the other beginning has meant that Bournemouth, Watford and Norwich have all been able to go into 20/21 with stronger squads than they would have been able to under normal circumstances – so, in a division where relegated sides often find it hard to adjust, we've had the unusual sight this season of them occupying the top three positions on occasions.
Winning our previous couple of matches so well gave us something positive to go into today's match against Watford at Vicarage Road with, but, in truth, we faced a huge task when you consider that the only points they'd dropped at home all season were thanks to a goal late in added time by Wales international Chris Mepham which enabled Bournemouth to escape with a 1-1 draw.
That apart, the other six visitors to Vicarage Road had left with nothing – indeed, the last three of them had conceded ten between them as Preston were trounced 4-1 and Coventry and Stoke were beaten 3-2. Throw in the fact there would also be around two thousand home supporters getting their first chance of seeing their side play in the flesh in nine months and it's almost certainly fair to say that, if this match had been played straight after our miserable showing at Coventry we would have been rated as rank outsiders.
Seven unanswered goals in two matches would be a tonic for any team though and the increasing impressiveness of our record when scoring first (a 100% winning record with a goals record of thirteen scored and none conceded in five matches) gave hope that we could be in business if we were able to go 1-0 up.
To be honest, the best I could see us doing was getting something like a 1-1 draw if we did manage to get that first goal, but the phrase "oh ye of little faith" springs to mind tonight because we went ahead and managed to keep our record of not conceding intact to record a 1-0 win which I daresay will have got a few sides taking note of Cardiff for maybe the first time this season.
I won't go into too much detail about the match, because it was another away match that I was only able to listen to and so I'm sure there are plenty of you with a better idea of what happened than I have. However, I must say that I was able to listen to much of the first half with an increasing sense of calm because it sounded like we got stronger as the forty five minutes went on and, actually, when we did score a couple of minutes before the break, it felt like a goal had been coming.
Certainly, it didn't sound like a game where the sum total of our attacking play worthy of a place on Sky's brief highlights package was our goal and a header past the post from Sean Morrison from a corner, but that's all that was shown on it!
Of course, in circumstances like this, the second half was always going to make for more nervy listening or watching and Watford duly stepped things up after the break as you knew they would do. The BBC stats though show that, apparently, both sides only had one on target effort despite thirteen goal attempts from Watford and ten from us, which tends to suggest that good chances were at a premium at either end of the pitch.
That's the impression given by the highlights package – a combination of outstanding defending by Morrison and vigilant goalkeeping by Alex Smithies denied Domingos Quina and Pedro should have probably done better with a headed chance that City's keeper was able to save comfortably. Apart from that, home sub Stipe Perica had an eventful ten minutes or so on the field as he was booked for diving in the penalty area and then missed what may well have been Watford's best chance when he nodded over from inside the six yard box right at the death.
The truth was that Watford had no one who could match City's in form Keiffer Moore when it came to finishing as he made it five goals in five games when the ball dropped to him around the penalty spot after a corner had only been partially dealt with – Moore's first time finish was hardly spectacular, but it was impressive in its execution from a striker who is it seems appreciating having a mobile, hard working and clever Mark Harris up alongside him.
It's clearly been the best week of the season so far for the senior side, but the feelgood factor has extended below that.There was a practice game played between what I suppose were City and Newport County's reserve sides in midweek as Dillon Phillips, Greg Cunningham, Sol Bamba, Robert Glatzel and Josh Murphy all got some game time. The last named missed the target with a second half penalty while the game was still scoreless, but he found the net later on to seal a 3-0 win following a couple of Keiron Evans efforts.
Last night I watched the Under 18s secure what was easily their most impressive result of the season so far as they went to Category One Academy side Derby County and beat them 3-2 in an exciting, switchback contest in the Third Round of the FA Youth Cup.
Centreback Taylor Jones nodded City in front in four minutes with a near post effort from a Caleb Hughes corner and they were looking comfortable midway through the first half when Cian Ashford set up James Crole with an opportunity from the corner of the penalty area that was both calm and precise in its execution.
Derby grew into the game after that though and their pressure was rewarded in added time before the break. When the home side levelled just before the hour mark, it seemed like the game was theirs to win, but some great saves from Jamie Cogman kept them out as we threatened to score ourselves on the break.
It was 2-2 after ninety minutes and City began to get on top somewhat in extra time as Crole scored a second fine goal as he held off challenges to win the game for his side just as the first period was ending. City were able to protect their lead after that and now enter the draw for Round Four which will be played sometime in the New Year I believe.