The new year opened with a creditable result for Cardiff City as they gained a rare good result against a leading side in this season's Championship when they drew 1-1 at the Hawthorns against West Brom who had looked likely top two finishers when they won 4-0 at our place in the first of Mick McCarthy's five centreback matches.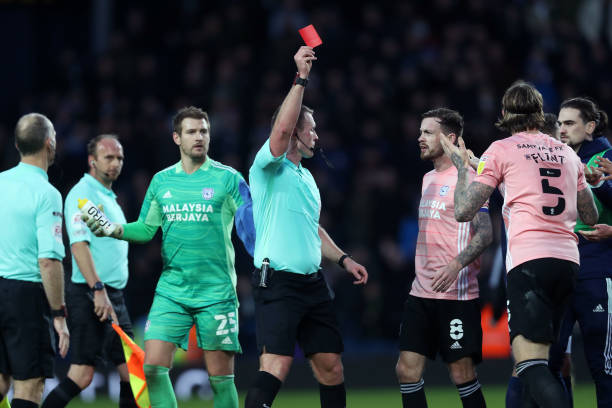 The game was also an unusual one for this season because, firstly, we went 1-0 up and, secondly, it was with a first half goal. However, one thing which is, worryingly, becoming increasingly common is that, for the third time in four matches, we had a player shown a straight red card – although this time it happened after the final whistle was blown.
That offers a bit of a clue that this was a match which I suspect will be remembered for the performance of the officials, because, in the end, both teams had legitimate grounds for berating some of the decision making.
Thomas Bramall was in charge of our matches against Peterborough, Reading and Hull this season without him making much of an impression on me, but he had a poor game today and was not helped by at least one of his linesmen.
It was strange that a game that had so many controversial moments was quite a sedate affair in the first half with City generally coping pretty well with a home attack that has been blunt in recent weeks with just three scored in their last eight matches – a lack of potency which has even led to suggestions lately that West Brom may miss out on a Play Off place.
That's probably an over reaction though because the Baggies still boast one of the best defences in the division and had only conceded three themselves in those eight matches where their forwards have been struggling.
So, although Bournemouth and West Brom away within a few days of each other over the holiday period always looked a daunting pair of fixtures, the likelihood was that, even against a defence as generous as ours, this was going to be a tense, pretty tight affair with an edgy set of home fans, many of whom have never really been convinced by manager Valerian Ismael or his tactical approach, ratcheting up the pressure on the home side.
It was for this reason that I felt confident we could get an unlikely win during the half time break. Yes, the home team had come close quite early on with Callum Robertson shooting not far wide and Alex Smithies making a fine save to deny Karlan Grant, but, although there were signs of the lack of understanding as a defensive unit which has blighted us all season, individually all three centrebacks were doing pretty well.
Also, while a midfield three of Pack, in for the suspended Bacuna, Ralls and Vaulks weren't looking like they were going to open up the home defence with their passing any time soon, they were offering a pretty solid shield in front of the back three as West Brom were forced into lots of backwards and sideways passing which rather underlined their low confidence levels.
For ourr part, there was little of the attacking threat from open play which has been a bit more a feature of our play under Steve Morison, so we were back to a complete reliance on set pieces for a goal threat.
I've always rated Will Vaulks as the best of our legion of long throw experts, but, whether it was the wet ball or a high wind that was responsible I'm not sure, he struggled here with them as plenty of high loopy throws were comfortably dealt with by the home defence culminating in the second half in just about the most obvious foul throw ever which even today's sub standard officials couldn't miss. Most of Vaulks' efforts came from the side of the pitch opposite the main stand and it definitely looked like he was throwing the ball into a wind.
This seemed even more likely just past the half hour mark when he finally got the chance to try one from the other side of the pitch which the home team struggled to deal with and Joe Ralls was able to get in a stabbed shot from about fifteen yards that was deflected into the side netting. Ralls then took another of those corners from the left that he can drop onto the edge of the six yard box and, not for the first time recently, it produced a goal as James Collins, replacing the injured Keiffer Moore, headed just past the outstretched hand of Sam Johnstone and into the corner of the net.
Apart from when captain Kyle Bartley nodded a corner not too far over, City were comfortable until half time and started pretty well after the restart until Grant slipped Robinson in behind what looked a static and square defence and the Irish international slid the ball past the onrushing Smithies for an equaliser.
As the ball hit the net, my immediate reaction was to blame a defence which had been split open by a single pass yet again, but there was also a doubt as to whether the scorer had been onside which had me thinking let's see what the replay shows before blaming the defence too much.
When the replay came, it was an eye opener, because, while Robertson looked about a yard off, there was also another home player who was beyond our last man. Although I wouldn't put it in the Eddie Smart against Chelsea class as a botched offside decision, there are pictures of the incident on social media clearly showing that the goal should never have been given.
With more than forty minutes still to play, my feeling that we could end up with three points had been transformed into an acceptance that I'd gladly take one. For the first time, West Brom began to show why they were predicted by many to go up automatically as City faced about a quarter of an hour of sustained pressure, but, even then, it felt like the officials were as much, if not more, responsible for this as they were giving us absolutely nothing during this time.
It was during this spell especially that City showed that they were really defending better than they usually have done this season, but this was now a game where, realistically, the best we could hope for was a draw.
However, in keeping with the bizarre nature of the afternoon, that looked to have turned on its head when Mr Bramall suddenly produced a red card for Alex Mowatt after a foul on Vaulks. My first reaction was that it was a yellow card offence, but the replay confirmed that this time the ref was probably right, it was just such a surprise to see him award us a free kick!
Now, all of a sudden, the game was there to be won by City and I had visions of our great away support being rewarded with another late goal to celebrate right in front of them. However, we didn't seem to believe we could get the win and it must be admitted that West Brom came much closer to scoring a decisive goal when it was ten v eleven from their point of view.
Steve Morison had not made any changes while Mowatt was on the pitch and I could understand that with us having got through the examination the home team put us under after their equaliser, but Rubin Colwill on for Vaulks was a positive move and there was also a few minutes for Isaak Davies as a replacement for the hard working Mark Harris following the manager's harsh words on Thursday.
There were half chances for City, most noticeably when Perry Ng's cross from the bye line flew across the home goal with no one switched on enough to apply a finishing touch, but too often a run was made too early or the final pass wasn't accurate enough and the home team could point to closer shaves for us like when Bartley jabbed a corner about a yard wide and then sub Grady Diangana was denied by another good Smithies save and a McGuinness block within seconds of each other.
The greatest drama was yet to come though as, with the four minutes of added time almost up, Conor Townsend went down in the penalty area under the challenge of Marlon Pack. Although the Albion player made a bit of a meal of it, it looked like a clear penalty to me because the City player had his hands up around Townsend's shoulders as he made what was surely a pushing movement (even Morison called it a "stonewall" penalty) – quite what Pack was doing, I don't know, but Mr Bramall waved play on.
So, the ref who I was railing against through the second half for giving us nothing had, in fact, sent off arguably West Brom's best player and saved us from almost certain defeat by failing to give a clear penalty!
The final whistle went within seconds of the incident and then all hell broke loose as Ismail stormed on to the pitch and made a bee line for the officials while James Collins tried to persuade him to stop and then there was a melee involving players from both sides with home keeper Johnstone and Aden Flint to the fore and both players were shown red cards.
I've not seen a replay of the incident, but it all seemed a bit handbagsish on first viewing and Morison said after the game that City would appeal against Flint's dismissal, but was not hopeful of being overturned. Furthermore,my guess is that both sides will face charges of failing to control their players (like we did at Peterborough in another match where they came up against Mr Bramall), while Baggies boss Ismael will surely face a charge of bringing the game into disrepute.
City's holiday programme, such as it was, ends with a return of one point from two very tough looking away games with a squad which was hit by Covid in the week before Christmas and we now have a backlog of home games to make up, but we face the prospect of trying to turn around our wretched home form with no fans in the ground again – I don't think City can put in their traditional half hearted Third Round FA Cup performance when they face Preston on Saturday, we really need a win to try and get some confidence in the team when they play at Cardiff City Stadium.