https://mauveandyellowarmy.net/
Defeats all of the way today for Cardiff City I'm afraid. The first team's unbeaten run of seven matches came to an end with a 4-2 defeat against West Brom at the Hawthorns which was enough to make the Baggies the latest leaders of what is proving to be an open Championship promotion race so far.
One side conspicuous by their absence from the list of early pace makers is Cardiff City who had barely made it into the top ten on the back of that pretty long run of matches without defeat and now they're out of it again after today – although it should be pointed out that we are only six points behind West Brom with the first quarter of the season almost completed.
I think a lot of City fans probably would have predicted the two changes Neil Warnock made to the side which won that strange game against QPR on Wednesday. Callum Paterson and Junior Hoilett for Lee Tomlin and Josh Murphy respectively was a reflection of the need for the sort of additional defensive security required when visiting one of the division's high flyers.
I listened to the majority of the game as I was driving back from the Under 18s match with Charlton which didn't kick off until 1.15 and so am reliant on the views of others to an extent regarding the game.
It's tempting, and justified in some ways I feel, to have a go at City after today's defeat, but it's only right as well to record that the view that came over in Radio Wales' coverage backed up Neil Warnock's opinion that some of the football his team faced in the first half was "the best they've played against this season".
A concerning fact about our first eleven fixtures is that we've only played three of the current top ten so far, so, on that basis, it's not too much of a surprise that West Brom were a step up from what we've faced so far, but I must say that I agreed with our manager when he said that anyone finishing above them is likely to go up automatically.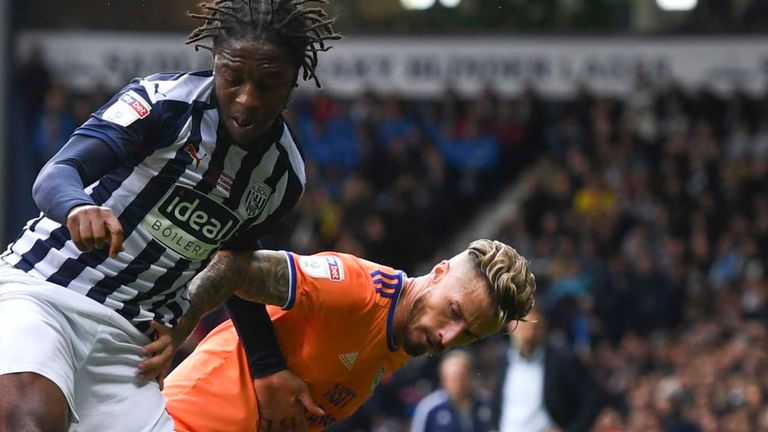 So, any criticism needs to be tempered by a realisation of what we were up against. However, I am going to repeat something that I noticed in the early games we played and that is the failure to recognise the standing we should have in this division now – instead, there has been a temptation to fall into "plucky little Cardiff City" mode -as I said in a messageboard post just after the game, I believe we go into too many games in this division with an attitude akin to a "minnow" facing a big club in a Cup tie.
After what sounded like an encouraging start where it was said our physicality caused the hosts a few problems, West Brom settled down to, seemingly, play the sort of progressive football that we-re either incapable of or unwilling to play. Their first goal arrived shortly after Charlie Austin had been denied by a fine last ditch save by Alex Smithies and it was a beauty curled home from twenty yards by Matheus Pereira, a Brazilian midfielder on loan from Sporting Lisbon.
The rest of the first half made for painful listening as City creaked and groaned at the back in the face of concerted and inventive pressure, but, just when they thought they would reach the sanctuary of half time only the one goal down following more heroics from Smithies, Pereira capitalised on a mistake by Leandro Bacuna to set up another loanee in West Ham's Grady Diangana (why don't we make more use of the loan system when we're in the Championship?) who fired home low across the keeper from a distance that was similar to the first goal.
Kevin Ratcliffe on Radio Wales was critical of Smithies for both goals and while I accept the second one didn't look that good as far as our keeper was concerned, I think that, just as with the first goal at Hull last weekend, our former defender is being a bit harsh on him. A front on view of the first goal confirms that Smithies didn't get anywhere near the shot (it's hard to think of any keepers who would have done) and my feeling with the second one was that it was always just out of his reach.
Anyway, the feeling at half time in the media was that City were staring down the barrel of a thrashing, but, in the event, the second half saw an improvement in their display and a slight decline in West Brom's.
That said, the impression I was getting was that City hardly had West Brom panicking and what we were getting was an exercise in keeping things respectable. However, the game then burst into life with three incidents which had a very big bearing on its outcome.
Now, I tend to be sympathetic to Robert Glatzel in much the same way I was towards Kenneth Zohore because leading the line at Neil Warnock's Cardiff City is a pretty thankless task given the poor quality service you get and the low number of opportunities that are created for you. However, having seen a video of his headed miss from a cross from Hoilett I think it was, it is a shocker as he heads well wide from a completely unmarked central position .
Ironically, Glatzel then found the net with another header from a Marlon Pack free kick, but was denied by an offside flag and the feeling that this just was not City's day only intensified within a minute when Austin made it 3-0.
Unfortunately, this was a goal which brought back all of the early season doubts about the Flint/Morrison central defensive partnership as the former reacted slowly to a flick which sent Austin clear of the latter and he was able to run about fifteen yards and fire past Smithies from the edge of the penalty area – Austin is a "fox in the box" striker who is hardly known for his ability to score the sort of goal he did here because he lacks that explosive pace to take him clear of the last defender, but that is what he did here.
Glatzel made way for Danny Ward and within no time, he had combined with another substitute, Nathaniel Mendez-Laing, to score what seemed to be no more than a consolation. However, when the third sub, Josh Murphy, swung over a corner in the eighty sixth minute, Ward rose unchallenged to head in via a post and suddenly a fixture which had ended 3-3 in two of the previous three matches played at the Hawthorns had the potential to add a third one.
There was a sixth goal in the game, but it came from Albion's Romaine Sawyers as City pushed men forward, as they had to do. No blame should be attached to the team for letting in a further goal under these circumstances, but it is the thirteenth one we've conceded in six, winless, away games this season and that compares very, very poorly with the twenty three conceded in the same number of matches during our promotion season – what odds that Neil Etheridge and, maybe, Sol Bamba will be back in the starting line up when City resume fixtures against Sheffield Wednesday after the second international break?
A few hours earlier I had watched the Under18's lose their third game of the season when Charlton won a close and pretty entertaining game 2-1. The Under-18 League 2 (South) table has an odd look to it at the moment with five sides well clear at the top with excellent records while the other five, including City, lag a long way behind them.
The reason for this disparity must be that the South Section dominated the Northern one during the early season period when matches are between clubs in the rival sections (there's a similar programme to end the season as well) and what it means is that, even this early in the season, the chances of City being able to retain the title they won last year must be very remote.
Charlton are one of those five pace setters and came into the game with an impressive record of won four and lost four from their first eight matches, but City generally had the better of things here early on. In saying that, it was more a case of almost but not quite, rather than efforts on the Charlton goal as the slight Ntazana Mayembe was preferred as attack leader to the more powerful Syiabonga Ligendza (who operated on the right wing) and he found himself being eased off the ball in promising and well created situations by a pair of strong centrebacks.
Keiron Evans brought a decent diving save out of Charlton's impressive keeper Harvey and then showed the lack of poise in a good position that was probably one of the differences between two evenly matched sides when he allowed Mayembe's pass to get away from him.
Chances were thin on the ground though in a match which Neil Warnock would not have enjoyed much because both sides wanted to "pass, pass, pass" – our manager gave a real insight into how his mind works in this interview about Gavin Whyte during the week.
The visitors had shown little in attack in the opening thirty five minutes or so, but Bradley Stewart, who I was seeing play for the first time, was forced into a good save and, from that point on until they scored, Charlton began to dominate.
There was a header not far over and what turned out to be a sighter for Charlton's Henry as he curled a free kick a yard or so high and wide, but when he got a second opportunity, he went for a bit more pace and found the net from a free kick about twenty two yards out – although having got his left hand to the shot, perhaps Stewart would have been disappointed not to keep it out.
City's response was impressive as Rubin Colwill hit a lovely first time effort from about twenty five yards which just needed a bit of fade on it to have brought the scores level, but instead it past about a foot outside the post, but, again, a lack of a sure first touch when in a scoring position and an inability to get a pass quite right denied them from a couple of other opportunities.
Cardiff carried their strong finish to the first half into the second period with Mayembe, now playing on the left as part of a reshuffle caused by Ryan Kavanagh's replacement of Evans, firing in a powerful angled drive which Newman tipped over the bar. A lovely, fluent passing movement then opened up the Charlton defence down their right, but some last ditch defending meant it only resulted in a corner for City.
However, they were not to be denied and this latest corner brought the sides level. Visiting goalkeeper Newman had been decisive in coming for and catching corners up to now, but Kavanagh kept his kick lower this time and it found its way to the far post where left back Sam Parsons made a difficult chance look easy by volleying the chest high ball into the net from ten yards.
For the next quarter of an hour or so I felt the game was there to be won for City as they forced the pace. Eli King, who had disappeared without trace it seemed last season after being touted as one of the Academy's best prospects a couple of years ago, formed a good midfield combination with the energetic Harry Pinchard and Colwill, but it was the latter who really came to the fore now with his skill and vision as he turned in what was the best performance I've seen from him.
Unfortunately, with Isaak Davies absent, City lacked the attacking focal point that may have capitalised on Colwill's probing and there was a contrast in how Charlton were able to cash in on their one, short, period of superiority in the second half to come up with the winning goal.
City looked like they had survived when Stewart saved from a Charlton sub who had been put clean through and then Taylor Jones made a goal saving tackle after the ball rebounded from the keeper's stop, but the visitors worked a short corner routine shortly afterwards which ended with Billy French heading in from point blank range.
It was all fairly comfortable for the visitors after that, apart from right at the death when sub Cian Ashford got in a shot which Newman had to dive to turn around the post. Defeat was tough on a City team which, I thought, probably just about edged the game in many respects, but Charlton had that bit of confidence that comes from the sort of run they're on and so I suppose they expected to win more than their opponents who now only have two victories to show from eight matches.
I've already mentioned that Rubin Colwill was very good today, but he may have been beaten to a City man of the match award by captain Joel Bagan who was a picture of poise and effectiveness as he never put a foot wrong in the middle of the home defence.
Just a few words about Blaenrhondda FC, who are settling in quite nicely following their promotion to the Premier Division of the Highadmit South Wales Alliance League. Today they beat previously unbeaten Cefn Cribwr BC 2-0 at home to move up to fifth in the table.