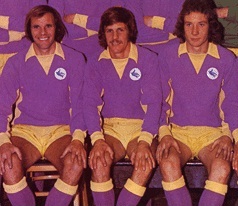 After the excitement of a couple of new signings and the announcement of the fixtures for the 2018/19 season, things have fallen back to those quiet May levels on the Cardiff City front in the last fortnight or so, therefore there is very little for me to report this week.
There was the announcement of another pre season match with City travelling to Scotland to face Greenock Morton on 31 July. I must admit that my first instinct on learning about this game was that it would be a City Development/Under 23 side that would be facing the team Robert Earnshaw spent a loan spell with as a teenager in the late nineties, but. on second thoughts, I'm probably doing Morton a disservice there.
After all, they played in the same league as Livingston FC (who a full strength City side beat 4-0 in their final warm up match prior to the 2017/18 campaign). Livingston also had a promotion to celebrate in May as they defeated Partick Thistle in a two leg Play Off to secure a place in the Scottish Premier League – compared to that, Morton had a modest time of it finishing seventh in the league of ten that is the Scottish version of the Championship.
That position they ended up is a little misleading however, because it suggests they were involved in a relegation struggle, but this was never really the case as they finished a whopping forty six points above bottom team Brechin (who didn't win a single game, managing only four draws throughout the campaign) and twenty ahead of ninth placed Dumbarton – indeed, they ended up winning more matches than they lost.
So, I would expect it to be a senior City side which plays at Cappielow at the end of next month and it is nearby Glasgow which is the source of one of this week's strongest transfer rumours with the resurrection of the story linking us with Rangers' attacking midfielder Josh Windass.
The son of Hull legend Dean Windass was born in that city and was on the books of Huddersfield as a youngster. An unsuccessful trial at Bradford City followed his release by the Terriers and he had to drop into non league football with Harrogate Railway Athletic before his form there earned him a move to Accrington Stanley in 2013.
Rangers then paid a reported £60,000 for Windass two years ago and he has made fifty four league appearances for them in that time, with all of his thirteen goals having been scored during the 17/18 season.
City are reported to be on the brink of offering £1.5 million for Windass and that reported fee raises two questions for me. First, it has got to be asked if that is the sort of fee we could expect to pay for someone who is good enough, or has the potential to be good enough. to play at Premier League level every week and, second, if he is good enough, do we have any chance of getting him at that price?
The other name that has been linked with us this week is Marko Grujic. The Liverpool midfielder who has not made it on to the pitch for either of Serbia's matches in the World Cup so far, was, apparently, attracting the attention of Italian giants AC Milan and Lazio who were both interested in a permanent deal for the youngster, before, reportedly, being put off by the £10 million asking price. Galatasaray of Turkey were interested in Grujic in January when he chose to come here instead and are reported as being willing to land him on either a permanent or a loan deal, but, if it is decided by the Merseyside club that their player should spend the next stage of his development with a Premier League club, then it would appear that we would be favourites to land him. Furthermore, it's being reported that Fulham's interest would appear to be dependent on whether they hang on to their captain Tom Cairney this summer.
I'll finish by saying that the end of June/early July period is usually a busy one for transfers as it is the time when contracts run out and Bosman free transfer moves are often finalised. In City terms, this probably is relevant most relevant when it comes to the contract situations of Junior Hoilett and Aron Gunnarsson – maybe we will have learned one way or another what their future holds by the time I do my next weekly review?