Cardiff City will be including some first team squad members in their side for a game at Hereford United tomorrow, so their pre season programme is not quite over yet, but barring any more new signings in the next seven days (which seems unlikely at the moment), I think we now have a good idea as to the make up of the side to face Norwich in our opening Championship game.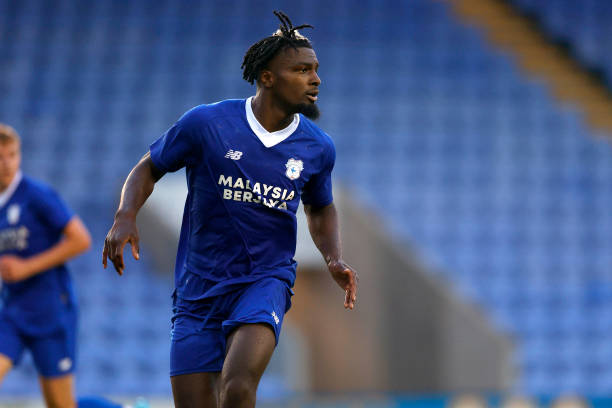 Before discussing this lunchtime's game at Swindon though, a few words about the midweek match at Shrewsbury which was played on the day when the old hottest temperature recorded in the UK record was broken at just over thirty different locations in England.
Under such circumstances, it was not much of a surprise to see a low key encounter end goalless. Nevertheless, it was encouraging to see us look much the better team through most areas of the pitch as there were very little in the way of problems for City at the back and there was a clear superiority in midfield over a team that has established itself as a pretty solid League One side in recent seasons.
Steve Morison's selection meant that we saw a mirror image of the situation at Cheltenham a few days earlier, whereby the team which played the first hour there became the one that came on for the last half an hour at Shrewsbury- although Ryan Wintle got to play a bit longer because he came on at half time to replace Joe Ralls who I'm afraid picked up another injury and was not involved at all today. So, with what has been a stop start pre season for the man who is likely to be our captain this season, it seems pretty certain that, even if he is passed fit next Saturday, Ralls won't be in the starting eleven.
With our newest signings Cedric Kipre, Romaine Sawyers and Sheyi Ojo all looking the better for their thirty minutes at Cheltenham, it was an enjoyable watch up to a point as the team generally tried to play the sort of football I believe many fans have wanted to see from their side as boredom and frustration grew with the turgid long ball stuff of the past decade or so.
It wasn't passing just for the sake of it either, because it was noticeable how often the ball was passed forward. As at Cheltenham however, the high press, which there's a general assumption will be an important plank in our tactical plan in 22/23, was mostly absent because of the elevated temperatures even though the kick off time was put back an hour to eight o clock.
However, for all of the pleasing football from City, there was very little in the way of an end product on a night when the need for new striker(s) was made very apparent in my view – I'll talk about this more later on.
There was a misleadingly bright start on the attacking front when Sheyi Ojo flighted over a lovely cross that Max Watters nodded no more than a foot wide. Although on paper it looked like City's first hour team was the more creative, it must be said that, the Watters header mentioned above apart, it was the last half an hour team that provided more of the moments when City could have gained the win which their general superiority clearly merited.
I'm thinking of three incidents – first, when Wintle fired in a twenty five yarder which the home keeper had to tip over the bar, second, when Jack Leahy was set free in the inside right channel, but he was unable to give a fluent move the finish it deserved as he dragged his shot across the face of goal. Finally, after City went long for one of the few times on the night, Mark Harris did well to work his way past a couple of defenders and, having done so, he really should have then scored to give his team a winner in added time. However, Harris' shot was placed too close to the keeper and the best chance of the game went abegging.
Going forward four days, City lined up with Ryan Allsop in goal, a back four of Mahlon Romeo, Kipre, Perry Ng and Jamilu Collins with Wintle, captaining the side, Andy Rinomhota and Sawyers as the midfield three and Watters leading the line supported by Callum O'Dowda and Ojo out wide.
Now, before going on to describe how we played, I must add that Swindon, who made the League Two Play Offs last season, were the worst of the five sides we played in our warm games in my view. That said, was that because we made them look so bad?
I suppose it follows that if I'm describing Swindon as the poorest of the sides we've played, then it's likely that we played better today than we have done in our past four, but I think, on balance, I'll come down on the side of it being our good play that made the biggest difference.
The match finished 4-2 in our favour, but that score line flattered a Swindon team that couldn't cope with the clever movement and positive passing of what I think will be our starting eleven next week and it was only when there was a bit of a loss of intensity in the closing minutes that the home team were able to mount a partial comeback.
Ojo forced home goalkeeper Sol Brynn into a flying save with a shot from twenty five yards as City showed their intentions in the opening minutes and settled pretty comfortably into things in front of an away following of nearly a thousand.
With Allsop being so much more comfortable on the ball than his predecessors, it takes a bit of getting used to watch us build from the back and it is not for the faint of heart at times – it's guaranteed that we'll concede a few soft goals by playing like this, but, this new team are showing that they can beat the press of lower division outfits and, provided it doesn't all fall apart completely against Championship sides, it appears that we now have the players equipped to make the risk involved in playing in this manner a worthwhile one.
During an especially impressive first half City were almost able to play through Swindon at will with the sort of rotation and incisive passing that you never got from our sides in the past. The work rate and technical skill of Rinomhota was a factor in this, as was Sawyers' ability to play passes that fans under the age of, say, twelve must have assumed that Cardiff players were under orders not to play. However, Wintle was, in his way, maybe the most impressive of a three which complemented each other so well as he allied his usual defensive awareness with a greater range of passing and an ability to break forward to good effect.
At right back, after a quiet start to his City career, Romeo gave easily his best display so far, while Jamilu Collins is getting better as he becomes more settled and with O'Dowda and Ojo effective in their contrasting ways, as well as a pair of centrebacks that need no second invitation to use the ball in a way not associated with that position at Cardiff in ages, whatever else it is, this is a team that deserves to succeed given the total change of approach we're seeing from them.
Of course, there's a reason why all of the talk from the pundits I hear when it comes to predicting finishing positions has us in the bottom third of the table – Steve Morison's great rebuild cannot be complete until we have at least one more player who can justly be called a striker in, actually, make that two.
I said on the City messageboard I use this week that I rate us twenty fourth out of twenty four in the Championship at the moment when it comes to the striking department. The Shrewsbury match confirmed this for me, but, to play Devil's Advocate for a while, we have scored eleven goals in our other four warm up matches – of course, this was against lower division teams.
What I will say mind is that Max Watters looks as ready for Championship football at the moment as he has done at any time since signing for us.
I thought Watters was very good today. He scored his third pre season goal, but I was impressed most by his intell8gence and awareness which was exemplified by two lovely defence splitting passes he played, one of which resulted in a goal, while the other one should have done.
Anyway, back to the game and City took control with a couple of goals in three minutes which had us comfortably ahead with just over a quarter of an hour played. For the first, a long diagonal left to right pass by Sawyers set O'Dowda free and he got to the bye line before calmly picking out Watters who steered his shot in from eight yards. Swindon gifted City the second one when former Wales Under 21 defender Cian Harris sold Brynn a little short with his back pass, but the keeper should have done better than offer a weak challenge that Rinomhota brushed aside as he tapped into the net.
The impressive midfielder should have had a second shortly afterwards when Watters neatly played him in, but his shot rolled a couple of yards wide.
Swindon had nothing to offer in attack at this stage and were cut open again just before half time when Wintle and Watters played a slick one two which enabled the first named to show unexpected finishing ability as he calmly side stepped a defender to shoot past Brynn from ten yards.
Five minutes after half time Allsop was finally obliged to show his shot shopping ability when he did well to keep out a Ben Gladwin volley at his near post. That was something of an isolated instance of goalmouth action though as City seemed prepared to rest on their laurels, but then there was a second flurry of quick goals in the game with this one featuring one for either side.
Swindon got on the scoresheet when the ball was worked neatly to Tyrese Shade whose shot from the right hand corner of the penalty area was placed well enough to beat Allsop.
Having grabbed themselves a very faint chance of an unlikely comeback, the home side promptly handed it back again as Brennan carelessly presented the ball to sub Mark Harris who placed a good pass through to Ojo who took a touch before scoring from twelve yards.
It was slightly annoying that City conceded a bad second goal late on as sub Eli King's pass went astray to home sub Jacob Wakeling who broke through a couple of half hearted tackles to get in a shot which beat Allsop with the aid of a deflection off Wintle.
So, how will City do in the coming season? Without striking reinforcements, I'm not confident, but I would certainly be hopeful of us doing a fair bit better than last season if we do get a couple of decent ones in. What I will say is that although I know that pre season matches are a notoriously fickle guide as to what is coming up over the next nine months, we've been far more impressive in terms of both results and performance this time round than we were a year ago.
City's Under 21s took on Bromley under 23s at Leckwith in midweek and fell a goal behind early on, but goals by two of the four trialists in the side plus one from Caleb Hughes had them 3-1 ahead at the interval. The second half was a rout though – Tom Davies, Morgan Wigley, Joel Colwill and James Crole with two each and Siya Ligendza with a penalty got City to ten. Does anyone gain much from a game which finishes 10-1? I'm not sure they do, but, at least it will continue the positive feelings that the likes of Crole and Colwill must have following their involvement with the senior team in recent weeks.
I'll finish with one of those "what do you want first, the good news or the bad news?" situations. As someone who always opts for the bad news first, I'm sad to say that Blaenrhondda FC, the team I adopted when I moved to the top of the Rhondda valley nearly four and a half years ago have "ceased to exist". There was an announcement on Twitter to that effect in the middle of last week – apparently, they were struggling to attract players, but it was more the lack of volunteers for the sort of off field work that is essential for teams of their size which was the main problem.
It was only when I was doing some research for the book I'm writing that I learned what an illustrious history Blaenrhondda had. I go into this to some extent in the book, but I daresay their demise is mirrored in many other villages and small towns throughout the country. Mind you, there won't be many who played their football against such a magnificent backdrop as Blaenrhondda did – their home ground has to be one of the most picturesque in Wales and I do hope that a phoenix club will arise in the future to ensure that a decent standard of football will continue to be played there.
As for the good news, well that comes from Glamorgan cricket team and their batsman Sam Northeast in particular who scored an amazing 410 not out as they snatched an improbable win at Leicester in a match where records galore tumbled. This link sets out some of those records which impacted not only on the clubs involved, but also in the game itself on a global level – cricket is a game which naturally attracts nerds like me who marvel at the statistical quirks it can produce, but these really are amazing figures
One incredible record not mentioned however is that Leicestershire's first innings of 584 was the highest evert total in a first class cricket by a side that were beaten by an innings.
Here's a match report which includes quotes from Northeast and confirms that Glamorgan have now overhauled what had seemed an insurmountable gap to overtake Middlesex in the second of the two promotion places. Unfortunately, it's the nature of the modern domestic game that Glamorgan do not resume four day cricket until September and then it will be without two of their best performers this season due to ever more complicated world cricket calendar.
https://mauveandyellowarmy.net/