https://mauveandyellowarmy.net/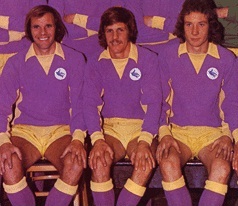 I'll start the last weekly review of the summer by apologising for there not being one last week. About ten days ago, my old computer breathed its last and so, for the first time, I typed up a piece for the blog on my equally ancient IPad.
Three hours of work produced a piece that was just about ready for publishing, save for one or two last minute checks of some of the details, so I switched tabs to go to Wikipedia to satisfy myself that what I had written was correct. Having done that, I clicked on the tab with the blog piece only to find WordPress (the software which provides the "foundation" for the blog) in the middle of shutting down.
No problem I thought, there is an autosave function which would have captured what I had typed, but it appears that this is not part of the app used on an IPad because when I opened the piece I had typed up I was greeted by a blank page!
So it was that, for the first time in the blog's life I lost a completed piece and, having just wasted three hours of my life, I was in no hurry to start again and risk losing a second attempt.
Therefore, I decided to wait until I had purchased a replacement computer before trying again, so welcome to the first Mauve and Yellow Army piece prepared on a laptop – I've finally made the change from a PC about ten years after most other people did!
My computing blues did not end there though. I had created a database of all my user names, passwords etc which I had backed up on to a memory stick for the sort of situation I found myself in this week, but when I plugged the stick into my new computer, I was told it was "corrupted" and the database, as well as many other important documents, was lost for ever.
It was only this morning that I began to see the woods from the trees so to speak and so I headed off to City's last pre season match this afternoon against OGC Nice in a better mood content that there would be a blog piece for this weekend at least.
City headed into the game against a team managed by Patrick Vierra which had finished in seventh position in Ligue 1 last season on the back of their North American tour which had seen them record a 1-0 win over San Antonio, draw 1-1 with New Mexico United and then beat Real Valladolid on penalties following another 1-1 scoreline.
It's not really possible to draw judgements on what the next nine months will hold on the back of three pre season games and the same applies when a fourth one results in a 1-0 win. However what I will say is that four games unbeaten with four scored and two conceded are suggestive of certain things and if you add that to what we know about the previous two and a half seasons under this manager, then the clues are there as to the strengths and weaknesses of the current squad.
In saying that, for a few minutes today City looked like they were going to turn on an attacking tour de force. It only took Joe Ralls twenty two seconds to better his goalscoring record from last season with a lovely, bending first time effort from twenty yards after he, Gary Madine and Nathaniel Mendez-Laing had combined effectively down the right.
A minute later, the winger who finished last season off with those two goals in the win at Old Trafford had forced visiting keeper Yannis Clementia into urgent action with a dangerous low cross, but, apart from a cross from Josh Murphy that only narrowly avoided Bobby Decordova-Reid a few minutes later, that was the end of City as an attacking force for almost an hour.
What followed that misleadingly enterprising start would have been so familiar to City watchers over the last two and half seasons under this manager. There was plenty of possession for the opposition, dogged defending from City and a feeling that ostensibly attacking players (i.e. our wingers and number ten) were in the team more for their work without the ball than with it.
That said, for all of their possession, Nice barely troubled Neil Etheridge or his replacement for the last quarter of the match, Joe Day, as they were reduced mostly to a series of long range pot shots which ranged from the speculative to the cringeworthy – I can only assume that the start of France's equivalent of the Premier League is some way off yet because, to use the current parlance, Nice looked seriously under cooked this afternoon.
City should be credited for their part in blunting Nice mind. All of the back four did well, with new signing Aiden Flint overcoming some awkward early moments when it looked like his lack of pace would cost his team to turn in an increasingly authoritative showing, while Ralls and Leandro Bacuna, and then subs Will Vaulks and Loic Damour, formed an effective midfield screen in front of the back four.
Nevertheless, as I've mentioned before on here, I don't think there is a single football fan on the planet who first got into the game as a youngster because they were thrilled by what someone did when they didn't have the ball.
Although age and an increasing knowledge of the game leads to an appreciation of what has become known as the ugly side of the game, I maintain that the thrill of football, even for those in their dotage, comes from what their favourites do when they have the ball and for too long during this decade Cardiff fans have had too little of that "luxury" to enjoy – for this watcher at least this has led to long, long spells even during games that we win where the football is so dull and frustrating to watch.
Reluctantly, I've come to accept that you can have less than fifty per cent possession and still be a very effective team, but when the figure starts getting below forty per cent, then this argument becomes that much harder to maintain.
It's not so much the lack of possession as the lack of what I would call controlled possession which bothers me. Between, say, the fifth and sixtieth minutes there was precious little of that commodity in City's play as misplaced simple passes and poor first touches presented the opposition with opportunities to win the ball back that they shouldn't have been given. What should have been assured and relatively simple phases of control instead became desperate lunges by men in blue ,which resulted in awkward situations for a team mate, even when possession was retained
Suddenly though, as the clock ticked past the sixty minute mark, City put together a neat move as they built from front to back with a mixture of short and long passing which ended with the forcing of the first of a series of corners and, from then on, they were on top to the extent that not only was their win deserved, it should have been by a larger margin.
The improvement started by those who began the game was continued and built on by those who replaced them, but, although Clementia especially and some desperate last ditch defending by his colleagues played a part in making sure the second goal didn't arrive, the overall standard of finishing suggested that City cannot afford to go a second successive summer without signing the striker that was regarded as a priority when the transfer window opened.
Sean Morrison showed his finishing from last season, rather than the previous two, when he rose unmarked but headed wide when a goal looked certain, while Omar Bogle mixed some truly dynamic moments with substandard finishing and a lack of awareness. Lee Tomlin generally justified the positive noises that had been emanating from the City camp about him this summer and was unlucky when his free kick glanced off the defensive wall and onto the top of the net. but he probably tried to be too clever on one occasion when he should have tried to score himself and so another chance went a begging.
Clementina should have been given no chance when Flint headed down and the ball was diverted towards goal by a City player, but the keeper managed to cling on to the ball on the goal line. Danny Ward did little wrong though when his well struck shot was blocked on the line with the keeper beaten and so it remained 1-0 until the end.
After the match, Neil Warnock spoke of making two, maybe three, new signings in the coming week. He mentioned having two main targets – needless to say, one of those is a striker with it being likely that he will be coming from abroad or, failing that, a loan from the domestic game.
Warnock's other main target is, presumably, a central midfielder, but our manager made it clear that neither of them could be regarded as certainties. From my perspective, while I think it is sometimes easy to under estimate what we have at the club already, it is also true to say that we have lost an important member of last season's defence and the striker who would, surely, have been regarded as our number one in that position if he had stayed. Also our three first choice central midfielders from last season have all departed and yet we are a long way short of replacing the five who have left from the spine of the team – unless we do, I think we're going to struggle to match the bookies' faith in us.
Finally, one new signing that looks increasingly likely to happen is Oxford United's twenty three year old Northern Ireland winger Gavin Whyte. Oxford have now admitted that Whyte is likely to be leaving them and Neil Warnock mentioned him by name after today's match.
Whyte scored twenty three times for Crusaders two seasons ago and averaged nearly a goal a game in near fifty matches he played for the Belfast club. Such figures sealed a move to England for him for a reported fee of £150,000 and the fact that City are said to be paying more than ten times that for him shows how well Whyte adjusted well to the Football League in 18/19 when he scored ten goals in all competitions to go with his nine assists – my one doubt about this signing is that Whyte is at least three years too young for us!
Seriously, while having seen barely anything of the player in action yet, this looks like a good signing for us, because, just as Oxford have found, there is a great chance of a healthy profit on this investment if Whyte can maintain the progress he has made so far.