Just a very short piece this week as there's been little to report on the City front – season tickets went on sale with all purchases to be made on the club website due to Covid restrictions. Based on what I've read on messageboards, the process appears to be a bit of a shambles currently, so I think I'll hang on for a week or so before renewing on the assumption that any teething problems will be sorted out by then.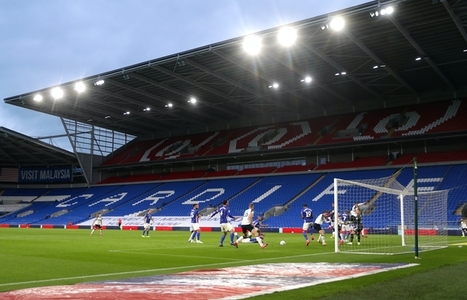 I mentioned before that this summer we have been linked with more players than I can ever remember. so I've tended to to ignore all of the speculation apart from one or two cases where the gossip appeared to be well founded (Ryan Wintle for example).
Well, there is another Ryan who I think will probably be representing us next season. Twenty one year old Ryan Giles is a left sided midfielder who appears to be well suited to playing in a left wing back role, he's played once for Wolves (in an FA Cup tie at Shrewsbury) and, like so many young players at Premier League clubs, has played nearly all of his first team football out on loan in recent seasons.
Giles first went to AFC Telford United on a temporary basis in 2018 and then joined Shrewsbury on what was supposed to be a deal to cover all of the 19/20 season, but he was recalled by his parent club due to injuries in their senior squad, only for him then to be loaned to Coventry for what should have been the run in for their League One title win. However, the Covid enforced suspension of fixtures soon scuppered that move and he returned to Wolves having only played the once for the Sky Blues.
Coventry saw enough in Giles to want him back for last season though and he spent the first half of it playing for them in the Championship, before joining Rotherham in the New Year in another temporary deal – he featured in forty two second tier matches in 20/21 with both of his goals coming when he was with Rotherham.
His time with Wolves includes the period when Mick McCarthy was manager at that club – Giles was a pre teenager in the Academy then, but it appears that our manager recalls him. This is another element in why I feel the story this week that claimed we had won a race, which included quite a few other Championship outfits, to secure him on another loan deal for 21/22 has an air of truth to it.
That said, you would have thought that, with the players returning for pre season training last week and the first warm up match scheduled for next weekend, City would have wanted Giles at the club by now, so the possibility that I've got this one wrong must exist.
On the subject of warm up matches, our full programme is now known;-
10 July Bath City A
17 Cambridge United H*
20 Forest Green Rovers A
24 Exeter City H*
27 Southampton H +
31 Newport County H +
Fixtures denoted by a * are to be played behind closed doors at Leckwith, while a + means that the matches will be staged at Cardiff City Stadium.