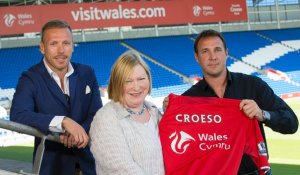 Thought to be worth approx £110,000 for the season the Canton Stand has been rnamed 'The Croeso Stand' in a bid to promote Wales to a worldwide audience.
There will also be further matchday sponsrship from the WG when Cardiff are shown on live TV.
Economy Minister Edwina Hart announced the deal at the Cardiff City Stadium on Thursday with manager Malky Mackay and Craig Bellamy.
She said: "Cardiff City's fantastic achievement in reaching the Premier League has provided a unique chance for promoting Wales to a worldwide audience. We want to ensure that every visitor to Cardiff next season and the millions of television viewers in more than 200 countries worldwide know what a warm welcome awaits them in Wales.
"Cardiff is a dynamic, international city and a great place to visit and do business. This partnership will help us promote tourism and business opportunities in the capital city and across the whole of Wales."
Mackay added: "The warmth my family and I felt on coming to Wales just over two years ago will forever stay with us.
"Cardiff is a fantastic city and the Welsh way of life is immensely endearing. I'm incredibly proud to be Cardiff City manager and to be leading us into the Premier League.
"We now have a platform on which to demonstrate what we do as a club, city and country on a global level."