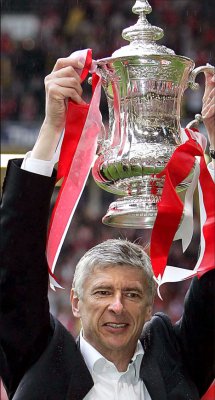 Arsene Wenger knows what it's like to win the FA Cup
Speaking before the journey to South Wales Arsene Wenger gave his pre match comments.
With the Gunners facing a team from a league below them at an old fashioned ground with a passionate atmosphere Wenger warned his squad to stay focussd. On playing at a ground lke Ninian Park Wenger said,
"It should help us to focus and prepare, but not worry us because that would mean we are scared and we are not scared."
He added: "We know in a cup tie away from home against a Championship team you need full commitment.
"We are a Premier League team at the top of the league and that is why we want to show when we go to these kinds of places that we can compete and show everyone why we are where we are."
Wenger continued: "We are confident, but what we want is to keep our run going and a good focus on every game.
"Every game we win makes us stronger and that's why we want to win the next one.
"This will, though, be a tricky cup game against a good Championship side, so you want to be on your toes and focused."