http://mauveandyellowarmy.net/
Well, I found a stream last night that was delivering good quality pictures of Cardiff City's game at West Ham and settled down to watch whether they could turn the improvement in their home results into something tangible on their travels.
Twenty minutes in, they had come through one or two hairy defensive moments and a worrying tendency to be off the pace in midfield to be still level at 0-0 and I got the first appearance of the dreaded buffering circle that is such a frequent accompaniment of any streamed game you watch, but, although an undoubted nuisance, it can usually be lived with as it proves to be a temporary interruption on most occasions.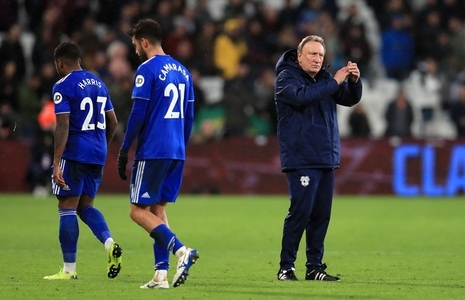 Unfortunately, this time, it proved to be the forerunner of something far worse as within seconds, the stream was lost completely – not only that, there were real problems with my whole broadband connection to the extent that even simple Internet searching became a hit and miss experience which usually came down in favour of the latter.
I'm still none the wiser as to what went wrong, but everything is working fine now after one of those experiences which really brings home how dependent we all are on that bit of wire which brings the Internet into your home.
So, it was back to the old faithful of the radio for the rest of the match and given what I had been able to watch of it, the spending power of the two teams and our away record so far, it didn't come as too much of a shock that it ended up 3-1 to West Ham with the commentary disagreeing with our manager's post match questioning of how we had ended up losing it.
My main concern in the portion of proceedings that I was able to watch was how quickly and often West Ham were able to play through us in midfield with short, accurate passing which we seemed powerless to counteract. Nothing had come of this warning sign up until the time my Internet packed up, but alarm bells were ringing for me I have to say.
So, the first away match following a run of fixtures on the grounds of four of the current top six ends in a defeat which most of the media would have predicted by the sort of margin that we got in the end. However, could it have all been different if City had been able to cash in on the opportunity they were given with about ten minutes of the first half left?
From memory, we were only given one penalty (scored by Whitts in the 1-1 home draw with Stoke) in our previous season in the Premier League and, up until last night, there had been precious few signs of us being given one during our second campaign at this level. However, referee Graham Scott pointed to the spot when Junior Hoilett went down under a challenge from Marko Arnautovic and, judging by what I heard on the commentary and post match comments by the managers, it seems the decision was a correct one.
Now, a bit of research back through this blog to the match reports on the games when Joe Ralls took his first few penalties for City will show that I didn't have a great deal of faith in his ability to score from the spot. Whitts missed four penalties during his time with us, but I was always pretty confident he would score when he stepped up to take one (many of which were in very high pressure situations) and Anthony Pilkington, whose absence from the squad for the best part of two seasons looks something of a mystery given the dearth of natural finishers in it, was another who I had a great deal of faith in from the spot.
To be fair to Ralls, apart from when he tried to be too cute with his second penalty in our home win against Norwich last season, he had always got the job done for us, but I can only say that it was not a shock to hear that Lukasz Fabianski had saved the penalty – apparently, it was an easy stop for the keeper who was always going to save a penalty that lacked power if he went the right way.
Ralls has had a difficult couple of months with his somewhat embarrassing sending off at Spurs and an injury which, apparently, was still troubling him to some extent when he returned from his suspension – I suppose other club supporters are just the same, but I've always thought some City fans love picking a scapegoat and Ralls is in danger of becoming the latest one.
Therefore, you have to wonder if he was the best candidate to take the penalty – the problem is though, who out of our starting eleven last night offers themselves as an obvious alternative to him?
Apparently, Victor Camarasa wanted to take the penalty, but, although I've not researched this, I'm not aware of any of the other ten on the pitch at the time having a record which shows that they have had consistent success from spot kicks in their career. Even if you expand the search beyond the eighteen in the match day squad last night to the twenty five named by Neil Warnock at the start of the season, there aren't any names which really stand out to me.
Gary Madine scored quite a few penalties for Bolton, but his one attempt from the spot for us was hardly a success was it and, anyway, although he was on the bench last night, his failure to get on to the pitch when we were three down and, surely, in need of as many forward players as possible, rather tells it's own story when it comes to the likelihood of him being able to take any penalties we are awarded from now on.
Ralls' failure to score last night can be added to the penalties missed by Madine and Hoilett in those mad last few minutes against Wolves to make it three consecutive spot kicks we have missed now. Neil Warnock and members of his scouting staff are, reportedly, off to various locations tonight to look at possible January transfer targets, let's hope that there are some players with good penalty records among them, because any team battling the odds like City are this season really need to take opportunities like last night's if and when they come along.
So, City are still the not so proud owners of what must be one of the season's strangest, and most concerning, stats – they have only held a 1-0 lead for a total of twenty one minutes this season and that was in a game they ended up losing 4-1!
Yes, that time between Sol Bamba's sixteenth minute effort at Stamford Bridge and Eden Hazard's thirty seventh minute equaliser is the only period in the sixteen matches City have played so far (Norwich were 3-0 up when Bruno Manga headed in what was our first goal of the season in the one Cup tie we've played) where we have led by the only goal of a game..
The fact that our squad, reckoned to be the weakest in the division by most pundits, have managed to win three games from being 1-0 down is a very impressive achievement which says a lot about their character and togetherness in the face of results which are consistently going against them. It offers hope in so many ways, not least in that we will have it in us to see matches through when we score what is always considered to be that very important first goal.
Unfortunately, the evidence to support the theory outlined in that last sentence is almost non existent and, surely, the fact has to be faced, that we have no chance of avoiding the drop if we keep on going throughout the remaining twenty three matches of our league campaign as we have been in the first fifteen?
Success in football is often defined by the number of 1-0 victories a team achieves over a season or competition. Success in Cardiff City terms for 18/19 will be a finishing place of seventeenth in the Premier League, but what chance do we have of achieving that if we keep on taking the 1-0 win out of the equation?
Just a few other City related items to mention, best of luck tonight to our youngsters in their Youth Cup tie at Hull City. They beat the Humberside club back in August, so let's hope it'll not be a case of "concentrating on the league" from tonight for them.
I'm afraid that concentrating on the league is the mantra we've got used to hearing from too many City managers in recent years following exits by the so called first team in the early rounds of cup competitions. With the draw for the Third Round of the FA Cup giving us a trip to League One strugglers Gillingham, we will no doubt be seen as Premier League giants killed by a lower league David in the all too likely event of us going out, but the truth, as provided by the club's attitude over the past four or five seasons towards fixtures where there aren't league points at stake, tells a different story doesn't it – please City, can we treat the FA Cup with a bit of respect this season!
Also, can I wish a full and speedy recovery to City legend (this is one of those rare occasions where that description is merited) Phil Dwyer – the club's Twitter account reported that he was "taken unwell" earlier in the week.
Once again, I'll finish with a request for support from readers by becoming my Patrons through Patreon. Full details of this scheme and the reasons why I decided to introduce it can be found here, but I should say that the feedback I have got so far has indicated a reluctance from some to use Patreon as they prefer to opt for a direct payment to me. If you are interested in becoming a patron and would prefer to make a direct contribution, please contact me at paul.evans8153@hotmail.com or in the Feedback section of the blog and I will send you my bank/PayPal details.