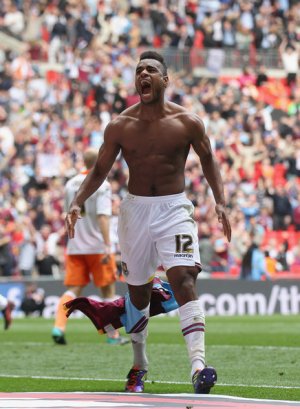 Congratulations to West Ham United. Winners at Wembley.
Blackpool will play Championship football against next season after losing today at Wembley. Ricardo Vaz Te (right) scored in the 87th minute to win the game 2 - 1 for West Ham.
Only one place is up for grabs now for next season's Championship and that will go to the winners of next weekend's League 1 play off final between Sheffield Utd and Huddersfield Town.
The confirmed teams for the 2012 / 2013 Championship are:
Bolton
Blackburn
Wolves
Blackpool
Birmingham
Cardiff
Middlesbrough
Hull City
Leicester
Brighton
Watford
Derby
Burnley
Leeds Utd
Ipswich
Millwall
Crystal Palace
Peterborough
Nottingham Forest
Bristol City
Barnsley
Charlton
Sheff Wed
Still to be decided:
One from Sheffield Utd or Huddersfield.