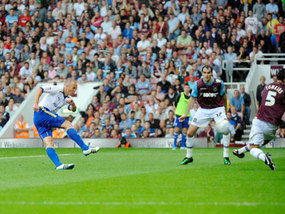 City were second favourites before their home leg but when that ended two nil to West Ham the odds increased dramatically on Cardiff City making it to Wembley.
West Ham were expected to go up automatically but a series of draws saw them drop a lot of points at home. That must give City some hope that if they can keep the home crowd frustrated and tense then they might be able to squeak a result from todays game.
Cardiff are one of only four sides to actually win at Upton Park this season, (Miller scoring the winner - pictured) so we are not talking miracles, just need everything to go our way on the day.
Let's not kid ourseleves, it's not going to be easy, but maybe City can take strength from their Carling Cup performance agaimnst Liverpool when they dug deep to take Liverpool to penalty kicks. Any Cardiff fan now this minute would snap your hand off for another penalty shoot out.
Play off games are dramatic. Something usually happens to make it compelling viewing. Hopefully today that will be City scoring the two goals at least that they are going to need.
Just give it your best shot. Don't come away from West Ham with regrets. There's no shame in going down fighting. This side has proved to be tenacious, dogged and determined. They are going to need all these attributes and more this afternoon.
West Ham Utd v Cardiff City
Monday 7th May, 2012 ko 4:30pm
Live on Sky Sports