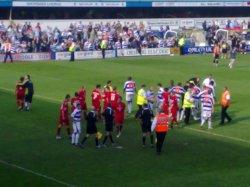 I'm sorry but for me I'm seeing the worst Cardiff City team on current form for quite a while.
I'll agree that for parts of the season some of the comments above could be true but at the moment we are shocking.
Roger Johnson and Kevin McNaughton apart I've lost faith in the players and the manager.
Since Dave "the boss" Jones decided to drop Neil Alexander (because he didn't sign a contract), we've plummeted. I hope Jones' ego is satisfied with the dross his team is putting out.
I've been watching the City since 1973, in my lifetime we've come the closest this year to promotion to the top flight than ever before in the 30 odd years I've been coming.
Why did we give up?
Surely the Cardiff City mystery at the moment is more of a conspiracy theory than the death of the Pakistani cricket coach.
We've not just suffered a dip in form but we've noticeably given up. That when we are still technically in with a play off chance with two games to go. We gave up though with 8 games to go when we were right in the play off mix.
I wanted to write after the Burnley game but was spitting feathers and was concerned I might say something out of turn.
Now though I can't hold back. I'm sorry to say we are rubbish. I'm upset with myself for spending my money on travelling to places like Burnley and Q.P.R. I made an effort to get there. Itr's a shame the team made no effort to repay my loyalty and the loyalty of the hundreds of fans who made the trips.
Whatever happened to the team that stormed to the top of the table. To the team that closed down every ball, to the team that had the hunger to succeed?
I'm OK with a mid-table finish if that's what we are, a mid table team. But we were contenders and we threw it away. Why? I can't answer that. I'd like to hear Dave Moans tell us why we capitulated. Why he dropped our best keeper. Why we started to play long ball to two short strikers?
It stinks.
I'm fed up with this team. Fed up with the dross they are serving up.
It's only now I'm home that I find that Michael Chopra was sent off. Rangers were stretching the boundaries of gamesmanship but it's a sad indictment that we get players sent off through frustration. If we were good enough we'd get around that. I notice during the game that Kerrea Gilbert get subbed before he got sent off.
The Chopra incident and the unsavioury end to the match that saw a mass brawl involving both teams and the officials just summed up a crappy day supporting Cardiff City.