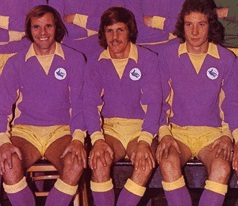 I posted the following on a City messageboard yesterday morning;-
"I listened to the end of the QPR v Hull game on the radio and David Pleat summed up the Play Off battle by saying that anyone down to eighth or ninth could still make it into the top six. Assuming that wasn't a throwaway remark made without a great deal of thought behind it, it means that he has already given up on us finishing in the top six."
We were in tenth position when David Pleat made his remarks. I went on to say that I didn't agree with him, but when a side makes the sort of improvements to the weakest aspects of it's game (for me, it was our almost complete inability to create chances in open play) that we have in the last two months or so, you would expect that to be reflected in a higher league position.
I mentioned in my piece for the Forest match that I believe we have become a different sort of team since the game with Reading on November 7 – more entertaining to watch and a better goalscoring rate, yes, but we were ninth in the table going into that game and we were one place lower than that when David Pleat seemingly wrote off our Play Off chances.
So, despite a big improvement on a weakness that had been holding us back and a tangible result in terms of goals scored as a result of it, we still managed to drop down the table. I concluded by saying that such a team "has got little or no chance of making the top six – I'm not giving up on our Play Off prospects yet, but everything I've seen since August tells me that David Pleat is probably right."
Those defeats at Birmingham and MK Dons saw many saying that the home games against Forest and Blackburn that followed them were make or break for our promotion prospects. Now, I thought that was over dramatising things a bit, but when you consider that the two dropped points in the first of these, seemingly, season defining matches combined with Ipswich's impressive win at Brighton had seen the gap between us and the last of the Play Off spots grow to six points, maybe those who were making such claims had a point.
We barely ever win both times when we have successive home matches, so I had no great expectation of six points from the Forest and Blackburn matches, but the draw in the first of them meant that, for me, yesterday's was the closest thing we'd had to a must win game so far this season.
When I put labels like that on a match, I go to it with no great expectation of being entertained and, with City trying to, partially at least, redeem what had been a very disappointing holiday period and Blackburn in a poor run of results themselves, anyone who went to Cardiff City Stadium expecting a goal fest were deluding themselves.
In the event, City got the win they needed and, if there was anything surprising about the 1-0 scoreline, it had to be that they were able to keep their first clean sheet since that Reading match ten games ago.
The three previous games between the teams had finished 1-1 with Blackburn pegging us back each time after we had scored, so, when you also consider our problems with holding on to leads in recent home, I wouldn't have thought a single City fan was counting any chickens after Joe Mason's fifty eighth minute goal.
After all, Blackburn had the man who has probably been the Championship's most consistent goalscorer in recent seasons in Jordan Rhodes and so nothing could be taken for granted. However, if there is a good time to face Rhodes who, as it turns out, has never managed another league goal against us after scoring for Ipswich in a 1-1 draw as an 18 year old in 2008, it was probably yesterday, because he is going through a dry goalscoring spell the like of which he has barely ever suffered before in his senior career.
Rhodes did go nine games without a goal in season 13/14 and it's seven without scoring for him now, but, with just two in his last fifteen matches, these are lean times indeed for such a fine finisher. Mind you, he has still netted nine times so far this season, which is a good return for a team which finds goalscoring as hard as Blackburn do.
Only the current bottom three plus MK Dons and Preston have scored less Championship goals than yesterday's opponents. Blackburn are not averaging a goal a game at the moment, but one thing they are is resolute defensively, because they've let in a goal less than they have scored.
Therefore, in a league where scoring the first goal is deemed even more important than it is in other divisions (albeit, City have been doing their best to disprove this theory in recent home games!), this appeared to apply even more to yesterday's match.
With Kenwyne Jones not in the match day eighteen after it was confirmed that he was talking to another club about a move, which now appears to be a permanent one with any fee paid being a nominal one, City began with Mason recalled to partner Tony Watt up front in the usual 4-4-2 formation and neither got anything that could remotely be called a meaningful chance in a dour first forty five minutes.
Despite Jones' absence, City approached the game for much of the time as if he was still there. Blackburn made things a little difficult for them through the simple tactic of pushing up on our centre backs and deep midfield player (usually Joe Ralls) with the result that the usual recipients of the ball from David Marshall were not an option.
Instead, the keeper chose to launch the ball upfield towards Mason and Watt with the result that the visitors's towering centrebacks Grant Hanley and Shane Duffy invariably got their head on the ball to usually ensure that their team regained possession.
Whenever I've seen Blackburn in televised matches this season, the commentator has mentioned the danger Hanley and Duffy represent from set pieces (the former got the equaliser in the 1-1 draw at Ewood Park in August). This is a testimony as to how powerful they are in the air and yet for too much of the time, City chose to play to their strengths despite having a front two whose games, basically, revolves more around brains than brawn.
So it was that City only worried Jason Steele in the Blackburn goal once in the first forty five minutes as Anthony Pilkington's well struck shot required a decent diving save. There was also a twenty five yard effort from Ralls that wasn't too far wide and a Pilkington cross was scraped behind for a corner by a defender with Mason lurking close by, but, after all of the recent matches where we have looked much more likely to score in the first half than we did in the second period, it was ominous that half time arrived with so little sign of a City goal.
However, an early shot across the face of the Blackburn goal by my man of the match Aron Gunnarsson and a cross aimed towards Pilkington which Steele had to punch away under pressure in the minutes after the restart at least suggested that, this time, City would improve on their opening forty five minutes. Although it was hardly a case of the visitor's goal being under siege, this is what they did as they played with a shade more fluency, while also showing some variation in their game.
For their part, Blackburn had what their manager Paul Lambert called a stonewall penalty turned down in the first half when referee Andy Woolmer chose to book Hope Akpan for a dive rather than penalise Gunnarsson for a challenge which, for me, fell into the home sides might get it, but an away side doesn't category and Duffy had a header from a corner easily held by Marshall for his first real save of the match.
A few minutes later came the game's decisive moment when, instead of playing to their strengths, City managed to exploit a weakness of the Blackburn centrebacks.
Centrebacks "splitting" to make themselves available to their goalkeeper when he is in possession is very much part of the modern game. I mentioned earlier that Blackburn did not allow City to do this by using a ploy which, essentially, worked, but, sometimes we get ourselves into a mess whereby a slightly risky throw out by Marshall develops into a situation where every succeeding pass puts the recipient under more pressure until we end up conceding possession, or giving away a free kick, in a dangerous area of the pitch.
This time though, it happened up the other end of the pitch as Steele's throw out enabled City, with Gunnarsson to the fore, to put a pair of centrebacks who were much less assured with the ball at their feet than they were when it was in the air under pressure. For a while, it looked as if Blackburn had got away with it as they managed to make it to the halfway line, but possession was then turned over and Ralls was presented with the ball in a position where the right pass would open up the visiting defence.
Ralls found that pass by feeding Craig Noone who cut inside left back Olsson and hit a shot which beat Steele, but was cleared off the line by the covering Duffy only for the it to fall to Mason who volleyed in from six yards.
Blackburn's response to falling behind betrayed a lack of confidence in front of goal which was only to be expected I suppose from a team that had lost both of their previous games 1-0 and had drawn 0-0 in the one before that.
Watching them toil in vain for that elusive goal (Craig Conway, given a good reception by City fans before and during the game, had a frustrating and fruitless return to his old stamping ground) brought back memories for me of that awful run in October/November where we looked totally incapable of ever finding the net without the help of an opponent.
Although memories of Burnley, Sheffield Wednesday and Brentford meant you never thought the points were already in the bag, looking back now, it's easy to see that if the game was to have a second goal, it was much more likely to be scored by City.
It could have come when Watt proved Duffy had not learned the lesson of a few minutes earlier when he robbed him of the ball and embarked on a run towards goal which was only ended by a foul on the edge of the penalty area which earned the defender a booking. Noone's shot from the resultant free kick flashed just wide and there were also a couple of good saves from Steele after Watt (much more like his normal self after his subdued showing against Forest) created chances for himself.
The striker will probably feel he should have scored from the second of these opportunities, but, with Steele having to deal with a series of crosses which forced him into hasty action, while Marshall remained relatively untroubled, City had far fewer alarms than might have been expected in holding on for what I would have thought even a committed Blackburn fan would concede was a deserved win – there was even a spell of keep ball which drew Oles from the crowd rather than the usual desperate shouts and whistles imploring the referee to end the game when we are a goal in front !
With Ipswich and Burnley drawing to follow Brighton's loss on Friday, the gap between us in ninth place and these clubs in the Play Off zone is four, five and seven points respectively. With sixty three more points up for grabs, any clubs in a position like ours has to believe those three sides are catchable, but with our next couple of games being at third placed Hull and in form Wolves, we will need to see a big improvement on many recent away showings to get anything from them.
A ground out home win against a team who have stopped scoring went a little way towards making it an adequate Christmas/New Year for City, but it's still hard to avoid the feeling that Russell Slade (who, praise be, abandoned his 4-4-2 for the closing stages yesterday when Stuart O'Keefe came on for Mason for the closing ten minutes!) will have to do some work in the transfer market of a quality that we've not seen from him up to now in the next month if this season is not going to eventually fizzle out in much the same way as the last one did.
*photos courtesy of https://www.flickr.com/photos/joncandy/