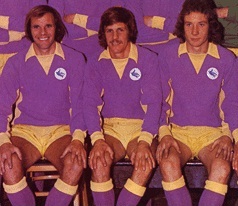 I think I've said it before on here, but I'll repeat it anyway – I've thought for a long time that, in general, the people who make their living from the game have nothing but contempt for the footballing opinions of the people who turn up to watch games every week.
Our opinions on the game and the way it is played are mostly derided on the grounds that we don't really know the game like they do. I suppose there is a degree of truth in this because, for example, we don't know how the player we want in the team is performing in training, both in terms of physical and mental commitment.
However, most supporters who have been watching their club regularly over a period of time will form an opinion on the team, it's manager and players that is generally sound. Therefore, I believe it's important to know what I heard supporters saying when they received news of the make up of the team which exited the FA Cup last night with a pathetic showing as they lost 1-0 at a near deserted Cardiff City Stadium to a Shrewsbury team that is struggling at the wrong end of the league below ours after being beaten 7-1 at Chesterfield last week.
I heard the same response three times to the team Russell Slade had picked from people who I spoke to separately before kick off – the exact words used may have been different, but the sentiment was always along the lines of "there's still time to go home I suppose".
I had thought the same thing myself on hearing the team, but I'm afraid that I chose the sarcasm that I'm increasingly turning to when it comes to the club I've followed for so long by saying "we're going to kill them with our pace".
In the days leading up to the game, I'd been awaiting the announcement of the team that would face Shrewsbury with more interest than normal because I figured it would say so much about Russell Slade's thinking when it came to the players at the club who do not feature every week.
Three years ago in the middle of our Championship winning season we made an ignominious exit from the FA Cup when we were beaten in the Third Round at non League Macclesfield. Just as he always tended to do in the early stages of the cup competitions while he was at the club, Malky Mackay had filled the team with youngsters to give them some first team experience – we usually lost these games and it could be argued as to whether it did any of the young pros involved any good, but, give me that approach over the one Russell Slade opted for last night any day of the week.
Of course, everything we know about Russell Slade screamed out that he wouldn't be following the Malky Mackay approach last night and it has to be said that a fair few of the candidates for inclusion if Slade had wanted to opt for youth were already cup tied, having played for other clubs in the competition while out on loan earlier in the season.
So, I went to the game with a hope that we would be seeing a side made up primarily of senior players not in recent starting elevens backed up with a smattering of youngsters – this turned out to be wishful thinking because we have a manager who far from offering encouragement to young players, appears to do as much as he can to discourage them!
The side which faced Blackburn in our last Championship side had an average age of twenty six, the one Slade sent out against Shrewsbury had an average of twenty seven as four players who would not see thirty again were drafted into the side.
Now, picking the two men who made up our central midfield for the first few months of this campaign was to be expected – Peter Whittingham and Kagisho Dikagcoi could both do with some game time after spells out of the starting eleven recently, but the inclusion of two 32 year olds in Gabriel Tamas and Alex Revell baffled me.
With all of his top level experience and international caps, there can be little doubt that Tamas has the ability to be able to cope with a cup tie against Shrewsbury, but it has to become more problematic for him when he is playing what I'm pretty sure was his first competitive game in at least a couple of months.
The signing of Tamas appeared an odd one at the time, but once he was here, you would have thought he would have seen some first team action before now – for example, he would have been used off the bench to shore things up when we were hanging on to a lead. Instead, Tamas played fairly regularly for the Under 21s for a month or two, but those appearances have long since ceased and so it hardly came as a surprise that the player looked somewhat off the pace at times.
There were rumours around the turn of the year that Tamas had walked out of the club in protest of his lack of playing time. As I say, it was only rumours, but the comments made by his agent in this story are a matter of fact.
As for Revell, he returned early from a loan spell at Wigan and almost immediately there were press stories saying that the club were willing to loan him out again. Last week, there was speculation that Revell, along with Federico Macheda, his striking partner last night, had been made available for transfer and, with our manager talking about bringing in a target man type striker to go along with the probable permanent signing of Tony Watt, that speculation certainly had a ring of truth to it.
So, the only conclusion I can come to with regard to the inclusion of Tamas, Revell and, possibly, Macheda is that they were in the shop window so to speak as our manager hoped would be buyers would be impressed by what they saw.
The outcome was entirely predictable, with none of the trio doing anything in the game to make up the mind of potential buyers to take the plunge so to speak – in fact, it's hard to imagine any of the players involved for Cardiff attracting offers based on what they produced against Shrewsbury.
The second lowest crowd seen for a first team game at Cardiff City Stadium were given a preview of what was to come as the visitors carved out a real chance for themselves within fifteen seconds as they capitalised on City's failure to win a tackle that was something like 60/40 in their favour and some dodgy defending by Bruno Manga.
After that, City plodded away, admittedly on a pudding of a pitch, with plenty of "safe" passing, but, little or nothing which asked serious questions of their opponents. For a while, there was the illusion that "class" was telling as Sammy Ameobi became an influence temporarilly, before fading back into what has become his usual anonymity.
Ameobi was unlucky with a shot which came back off the base of the post and Macheda and Revell has efforts blocked by visiting keeper Halstead in rapid succession, but, in essence, that was it as far as a goal threat went for either side in the first half.
After the break, Shrewsbury improved a bit, while City proved that it was possible for their abysmal level of performance in the opening forty five minutes to deteriorate further.
The match winning goal, which arrived around the hour mark, was down to a combination of a good cross, a firm close range header and some poor defending by Scott Malone and Tamas – Simon Moore might have come for the cross as well, but, to be fair to him, he probably thought our two defenders would deal with it.
After that, City huffed and puffed (or should that be spluttered and wheezed?) a bit as Macheda missed the sort of chance someone with his finishing ability should put away in his sleep and Manga headed wide when he should have scored from a Whittingham corner (forget Kenwyne Jones, City are really missing Sean Morrison when it comes to this part of the game).
However, with Clark putting a good chance wide and Black hitting an upright in the dying minutes, another Shrewsbury goal was more likely than a City equaliser and it was hard to begrudge them their win because they were a team in a way that Slade's rag tag army of individuals never was.
Going back to my pre match remark about us murdering Shrewsbury with our pace, the overwhelming impression I got from the game was of the almost complete lack of that commodity in our performance (be it in running or passing speed) and yet in the ignored Declan John and Deji Oshilaja we had plenty of it on the bench.
With the latter match fit and having picked up very good reviews for the part he had played in Gillingham's League One promotion challenge during his time there, Oshilaja, instead of the patently not match fit Tamas, made sense before kick off, not just in hindsight. However, this manager appears to not rate any of the young pros he inherited at the club with the exception of Joe Ralls, who was a pretty regular member of the first team squad a couple of years before he arrived anyway – even then, it took Slade months to finally realise that the midfielder was worth a regular place in the team.
In fact, judging by the truly bizarre treatment of Matt Kennedy last night, it could be argued that Russell Slade does not rate the youngsters he has signed since he came here either.
Obviously stunned by the Shrewsbury goal and not thinking clearly, our manager turned to youth before the game restarted as Kennedy was introduced for Dikgacoi and, for a few minutes, the winger was allowed to put in crosses from the left wing position of a better quality than had been seen before then.
Finally regaining his senses about ten minutes later, Slade soon sorted the young upstart out by bringing on Craig Noone for Fabio and directing Kennedy to go to right back (a position which I seriously doubt he had ever played in before in his time as a pro) to replace the Brazilian.
Sorry, that's my sarcasm coming through again and, to be fair, me and my mate were saying that that Fabio looked to be injured a few minutes before he was replaced – even so, this does not excuse the sheer absurdity of our manager's attempted solution to this problem.
Just for a while after this switch, I thought our manager had done something completely out of character and switched to wing backs and a back three, but, no, Kennedy was indeed playing at right back and, of course, we stuck to 4-4-2.
By the end, Russell Slade had added another game to the long list that his critics use to beat him with. I described his management as "pathetic" yesterday on a City messageboard when I got home, but, it must be said that there is another side to all of this and I'm grateful to the supporter who posted this link on that board.
That's some very strong stuff from media pundit and former City striker Ian Walsh and he is right to say that our manager should not cop all of the flak which deserves to be flying about after this awful showing. There are others who are more to blame for the sorry mess Cardiff City has become than Russell Slade and we now face three weeks before the end of the transfer window which will say so much about Vincent Tan's attitude towards the club he owns.
I believe people can understand why Mr Tan has decided that the sort of spending seen under our two previous managers had to end, but, in typical Cardiff style, we look to have gone from one extreme to the other and it still seems to me that the best chance of our owner ever getting back the money he has loaned the club has to lie in him speculating, on a fairly modest scale, to accumulate.
Even so, serious questions have to be asked about the man Mr Tan told us was his personal appointment as manager. As I was leaving for the game yesterday, an entertaining televised encounter was just starting it's second half – Tottenham and Leicester are both in the Premier League's top four and, after years of pretty madcap spending, the first named seem to have reined that in somewhat and, instead, gone for a manager who prefers to trust, develop and improve the young talent already at his club.
Now, I'm not for one minute trying to say that Russell Slade is in the Mauricio Pochettino classas a coach or manager, but it is interesting to compare and contrast the Argentinian's approach with what I believe to be the old fashioned and unimaginative philosophy of our manager. Everything I've seen from Russell Slade in the time he has been in charge makes me think he is making the job harder for himself by, seemingly, ignoring what Spurs have decided is a very important part of their philosophy – youth development.
I'd like to finish by saying that we didn't always lose when Malky Mackay filled the team with youngsters for those cup ties. In his first cup game as City boss, we went to Oxford United and won 3-1 in the First Round of the 2011/12 League Cup and it was interesting and informative to see that team beating the jacks yesterday in what was just about the most entertaining and enjoyable game I've seen this season.
Oxford have put together a side which includes a player who put Swansea to the sword in Kemar Roofe who was released by West Brom last summer. He's much too good for the league he is playing in and Oxford will do well to keep hold of him this month, but there were other very impressive young players in their side yesterday who were brought in by shrewd transfer dealing in the permanent signing and loan markets and through the club's own youth system.
The atmosphere generated by a crowd that was in raptures at seeing their team deservedly beating a Premier League outfit was terrific and the pride those supporters felt in their team was tangible.
The contrast between the Kassam Stadium and Cardiff City Stadium a few hours later was both obvious and telling – where there was pride in the one ground, there was cynicism and gallows humour in the other one (don't forget either, that the four thousand or so City fans who turned up last night were supposed to be the real, loyal, diehard fans of the club).
Thinking about it, the last time I felt something approaching what those Oxford fans did yesterday was perhaps when we beat Man City nearly two and a half years ago, so it may still be possible to get that feelgood factor back under Vincent Tan's ownership, but I very much doubt if it will happen while Russell Slade remains our manager.