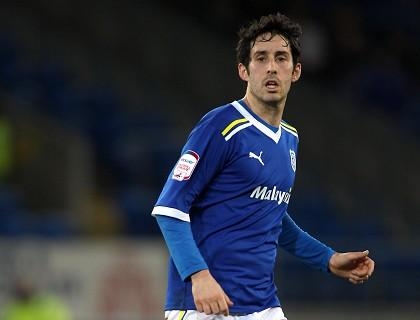 The south Wales club, with Dave Jones at the helm, suffered the disappointment of defeat to Portsmouth in the 2008 FA Cup final and then had to endure the agony of missing out on promotion to the Premier League when they lost to Blackpool in the 2010 Championship play-off final.
Former Aston Villa playmaker Whittingham has no desire to go through those experiences again, and said: "Going to Wembley has not been too nice to us, obviously we lost to Blackpool in the play-off final so this is a good time to put things right and it's something we think we can do."
He added: "That defeat was absolutely devastating, especially seeing Blackpool playing in the Premier League, that was horrible.
"It was the last game of the season and it was all you could think about for the next two months and it's something we want to put right.
"After all the hype it is good that the game is coming up and we want to do ourselves proud.
"It's a one-off game, league form goes out the window, it's a welcome distraction and we go to Wembley with not so much pressure on us to try and do well."
Whittingham admits that defeat to the Seasiders and last season's play-off semi-final reverse to Reading left him considering a move away from Cardiff.
But he revealed how speaking to new boss Malky Mackay, who has been handed a new three-and-a-half year contract, convinced him to stay on.
He said: "Last summer was difficult. Seeing Michael Chopra, Jay Bothroyd, Chris Burke and Craig Bellamy leave, but I spoke to the gaffer and he made the promise we would go for promotion again and we have. There were a couple of offers kicking about but once I spoke to the manager I wanted to stay."
Source: PA
Source: PA