Has the Championship moved on in our absence?
It's a bit rich of me jumping to conclusions, writes Paul Evans, as I sit here writing this a couple of hours after Cardiff City's 3-2 defeat at Wigan on the opening day of the 2019/20 season when I have seen so little of the match and am, largely, going by what I've heard on the radio and read on messageboards from those who were there. However, I do feel it brings to the fore doubts I had which I chose to set to one side in a spirit of pre season optimism.
http://mauveandyellowarmy.net/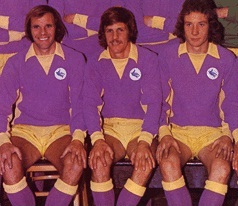 I saw more than I normally do of our pre season games this time around as I was able to watch most of the San Antonio and Real Valladolid matches online and was at Cardiff City Stadium last weekend to watch us beat Nice. The signals I got from these matches were that we were going to be the same sort of team that we were during our 17/18 promotion season – physically imposing, resilient and attritional.
Two seasons ago, we were a team that liked to keep a lid on proceedings – to keep things on the simmer. We were able to do this by making matches bitty – we gave away lots of free kicks while, mostly, making sure any offences committed were not of the serious kind that can lead to straight red cards and looked to make frequent use of time consuming long throws even when we were in our own half.
The long throw was missing as an attacking weapon for most of the Nice match due to new signing Will Vaulks being left out of the starting line up (he was again today), but, apart from this, our warm up matches had the look of the sort of game I would have thought Neil Warnock would have wanted us to play because it is the style this group of players are probably most comfortable with.
As can happen when what you are cooking is on the simmer, there will be moments when the water reaches boiling point and can escape from the saucepan over the stove.
Most times this can be contained by quickly turning the temperature down thereby returning things to how they were and this is what City have been able to do on a regular basis under Neil Warnock in the Championship at least – we have been able to get things back to how we want them to be, but, for me, today has the feel of a time when the boiling water was not quickly controlled, instead it spat and flew everywhere causing some considerable damage in the process.
Why do I suspect that? Well, there's the score for a start – 3-2 after being a goal up at half time is a very unusual outcome for Cardiff City under this manager. Thinking back to 17/18, I can only come up with one match that was similar to today's and that was the 3-1 loss at Pride Park against Derby County.
On that night late in the season, we were largely comfortable in the first half and deserved the lead we had earned from a fine Callum Paterson goal only for a succession of uncharacteristic individual errors to lead to home goals and leave us a well beaten team at the end.
We can only hope that, like that match in the Midlands, today's visit to Lancashire will prove to be a once in a season event, but, and I emphasise I can only talk about a "feel" picked up from what I heard not saw here, whereas individual errors cost us at Derby, this seemed more like having to fight fires all over the pitch and, generally speaking, we weren't able to put them out.
Today's game had a much more open feel to it in the second half than you normally get in Cardiff matches. I don't think Neil Warnock wants to see this squad go toe to toe with our opponents in a basketball style attack and counter attack encounter because he's sensible enough to know we'll come off second best more often than not in those sort of games.
It seems pretty obvious that our manager feels that the methods which proved successful two years ago can be again for us this time around, but, having been impressed by the attacking quality shown by a lot of the teams taking part in what was a very entertaining Championship last season, I do feel there are question marks against us in certain areas.
There is, of course, another way of taking the heat and pace out of a game if you are so minded and that is to monopolise possession, but that is never going to be an option under this manager. Neil Warnock seems perfectly happy for his team to concede possession for long periods and when it is won back, the desire seems to be to go for a quick, decisive, but risky, pass rather than taking safer options.
This is very laudable in some respects, but, taking things beyond just today's game, could the players we have, in particular those in central midfield, be able to maintain possession for much longer periods if they were told to or are they told not to try to do that because it is felt that they can't?
It's a classic chicken and egg situation, but I can't see our manager giving the likes of Ralls and Bacuna the chance to prove they have more to their game because he will stick to his tried and trusted methods, which, to be fair, have often succeeded for what is left of his managerial career.
Last week saw us add two new players to our squad. I'll talk about them in more detail later, but, for now, I just want to talk about the positions they play in. One of them is a target man type striker and I think every City fan will be pleased to see someone come in there because he was obviously needed. The second arrival was yet another winger – yes, I suppose we could do with another one after the loss of Kadeem Harris (who scored Sheffield Wednesday's opener in their 3-1 win at Reading), but I think I'm right in saying that most City fans would have put another central midfielder as a more pressing need.
More than that, it seems there is another striker being targeted to come in before the window closes on Thursday with very particular details being given in the local press about him (he's young, very quick, is not based in the UK and can be bought for £2 million it seems). On the other hand, there is vague talk only of a loan player coming in from the Premier League – no concrete details as to his position have been given, but I think the assumption is that it surely has to be a central midfielder.
As alluded to already, any newcomer in that area of the pitch would, almost certainly be told to play "the Warnock way" so it's probably irrelevant as to whether he has the requisite technique and tactical appreciation to bring a new dimension to our passing.
Anyway, it's the defence which my pre season doubts were mostly concerned with. I've always believed that there is a fine line between "experienced" and just plain old and, for all of the talk about the defence and keeper being much the same as they were in 17/18, many of those involved are of an age where the passing of a couple of years can have a significant impact on their powers.
Apologies if I'm going over ground I've already covered on here (I know I've mentioned this on the messageboard I use), but two of today's back four were thirty or over, another one will be thirty during the course of this season and the other one will be twenty nine, while the player most likely to break up today's back four and become a regular starter will be thirty five early in the new year.
It's not only the matter of age which concerns me though. The replacement of Bruno Manga with Aiden Flint is hardly a like for like one – our two first choice centrebacks for the foreseeable future are both stopper types who are happiest having a non mobile, big target man to deal with.
Morrison and Flint are, essentially, attack the ball, head and kick it centre halves, but how many sides in any league play with two big target men up front these days?
I mentioned earlier that the impression I got as a not as interested as normal observer of the Championship last season was that many sides did not even play with one striker of the type Morrison and Flint are best suited to mark.
There was more emphasis on attacking pace and movement with centrebacks being moved into areas they weren't happy in more often. Invariably, at least .one of today's centrebacks will come up against someone like Wigan's Josh Windass every week and, by all accounts, it was our skipper who had to look after him today.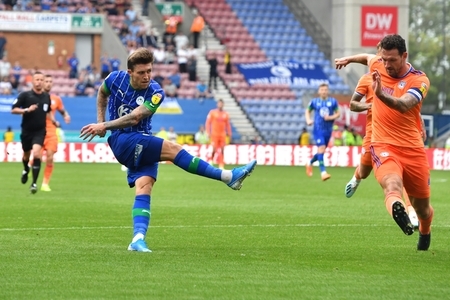 Windass scores despite Morrison's attempt to block
There seems to be almost universal agreement that Morrison was given a rough ride by Windass today – he gave away a penalty while the score was 1-0 us for a foul on the former Rangers player who then hit the post with his spot kick.
A missed penalty might have left Wigan thinking that it was not destined to be their day, but the sight of Neil Etheridge leaving the field with what looks to be a hamstring injury which will keep him out for a couple of months or more must have lifted them.
Conceding three times in sixteen minutes on your competitive debut for your new club must be a chastening experience for any keeper, but, seemingly, Joe Day had little chance with any of the goals and it has to be doubtful as to whether the score would have been any different if Etheridge had stayed on.
With both full backs also having their problems, it was not a good day for our defence. A fit and in form Sol Bamba would leave us better equipped to deal with the new and different challenges the Championship is likely to pose compared to two years ago. However, I can't help feeling Bruno Manga would have been in his element as he faced up to challenges which would allow him to show his full range of defensive skills, while also keeping him honest when it came to those errors in the Championship which looked to be down to wandering concentration – without him, I fear we are going to have trouble containing things when simmer turns to boil this season.
Anyway, let's hope that I can forget these doubts of mine once our new striker (who was suspended for today's match after a sending off in the final game of last season) comes into the team and starts banging in the goals.
I'd be very impressed with any City fan who could say with hand on heart that they had identified Robert Glatzel of Heidenheim in Germany's 2 Bundesliga as someone who could be the striker we had been looking for since the death of Emiliano Sala.
At six foot four, twenty five year old Glatzel has the height which is a prerequisite for a centre forward with our manager, but he says he is equally happy with the ball at his feet as he is when it is aimed towards his head,
While his career up to last season had been a pretty modest one, there is evidence of a gradual improvement which culminated in his hat trick at Bayern Munich in a German Cup Quarter Final which Heidenheim lost 5-4.
Certainly, his goals from last season video while not showing anything that could be termed spectacular showed a level of general competence and confidence in his finishing which is promising and at £5.5 million for a three year contract, this has the feel of quite a shrewd signing by City.
The other newcomer was Northern Ireland's Gavin Whyte who we signed from Oxford United on a four year deal for a fee of £2 million. Whyte, whose signing has been widely predicted for a week or more before he put pen to paper, was introduced late on today for an ineffective Josh Murphy – he had little impact in what were difficult circumstances, but it's far too early to judge him yet.
Finally, a few words about the Under 23s and Under 18s who were both in action in warm up matches yesterday. An experienced Development team selection which included Alex Smithies, Greg Cunningham and Lee Tomlin beat Kortrik 4-1 at Leckwith with Callum Paterson, playing his first game since his injury picked up while representing Scotland in April opening the scoring around the hour mark. Ben Margetson got a second and James Waite a third before the visitors responded = Waite completed the scoring just before the end.
Meanwhile the Academy team, which had already won 6-4 at Leicester a week or so ago, gained an outstanding 5-0 win at Southampton – given the reputation the Saints' Academy has earned itself down the years, that has to be the best result of our pre season.
Just to add as a PS typed first thing on Sunday morning after I had completed the main body of this piece on Saturday night, the headline from the Daily Telegraph's article on the game captures very succinctly the doubts I was trying to get over last night. It reads "Josh Windass inspires Wigan rally and runs relegated Cardiff ragged" – Wigan proved last season that they are a strong outfit at home, but we will face many better attacks than theirs this season, will our ageing defence be able to rediscover their 17/18 meanness, or will being "run ragged" become a common occurrence?