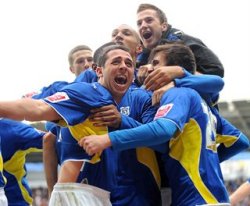 Chopra has been charged with race fixing by the British Horseracing Authority.
He is alleged to have conspired with Nottingham Forest midfielder James Coppinger, and former Manchester United and England under-21 international Mark Wilson, currently unattached, and jockey Andrew Heffernen to fix races.
The charges relate to a time when Chopra was playing for Cardiff.
His gambling problems are well documented. "I have probably lost between £1.5m and £2m just by gambling." he once said.
Those problems continued since his move to Ipswich.
Jewell told the club site: "It's not an ideal situation for us or Michael, obviously. These are allegations though so we must not be judgemental. They also relate to before he became an Ipswich Town player.
"We will continue to support Michael as we have done through his gambling addiction. He's our player and as a club we have done everything we can to support him.
"We are here to help him. We have people at the club who are trying to help him on a daily basis. He knows that but he has to help himself as well. We want to get the best out of him. He's a good player and we want him scoring goals for this club.
"He's fit for Saturday but any decision I make on the team that plays Cardiff – and any game for that matter – will be based on what is best for the team and nothing else .
"I look at the players on the training ground every day, who is looking sharp, who isn't and I base my judgement on that and nothing else that is happening outside the club."
Ipswich v Cardiff City
Saturday 5:20pm
Live on Sky Sports