http://mauveandyellowarmy.net/
A shorter than normal piece from me today because there is not a great deal I can say about Cardiff City's 2-0 defeat at Wolves as I decided to go along to Blaenrhondda's match with Cardiff Airport and so only got to watch the dying embers of the City game when I got home.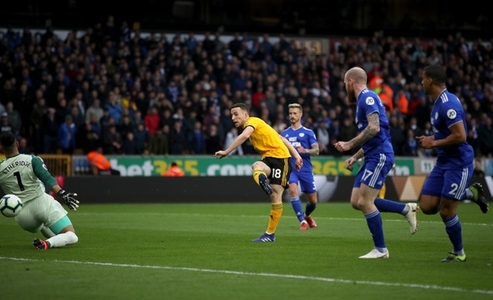 The Blaenrhondda match kicked off at 2.30, so when I switched my radio as the half time whistle went, City had been playing for about a quarter of an hour. The game being covered was Bournemouth against Manchester City, but I had only been listening for a few seconds when the commentator said there'd been a goal in the Wolves/Cardiff match, so let's go over to Molineux to hear about it.

Of course, I did not think for a minute that the reporter was going to tell us about a shock lead for the visitors and this proved to be the case. Still, there were seventy five minutes left to turn things around and hadn't Wolves taken the lead at about this time in the first match between the clubs in Cardiff, only to end up on the wrong end of a 2-1 scoreline.

The reporting of the Wolves goal completed, coverage continued of the game at Bournemouth, but only for what seemed no more than a minute because it was then back to Wolves again where there had been a second goal. With the way things have gone for us in the past eight days, I again feared the worst and I didn't have to wait long for confirmation of my deepening gloom – apparently, Sol Bamba did one of those Beckanbauer impersonations that our manager doesn't like and Wolves' classy Mexican Jimenez now had a goal to go with his assist for Jota's opener.

Sometimes I find myself wondering if it's my fault when things go wrong for the sporting team or person I'm supporting -I should add that I do so with a smile because I know it's not really true.

However, every now and again, things do happen which get you thinking and they are not so easy to laugh off – could it really all be down to me after all?

Today has been one of those such occasions –
City had, by all accounts, made a decent start, yet I begin listening and they
concede twice in ninety seconds, so, too all intents and purposes, it's game
over!

I'll return to this theme later because there
have been other reasons for me to wonder what I have done to offend someone
very important today, but I'd like to offer a few thoughts on where City find themselves
now with nine matches and twenty seven points to play for.

After the Everton debacle (I don't believe that's too strong a word to describe a performance that I believe was worse than the one we gave in conceding five against Watford), Neil Warnock resorted to what I think of as a very tired old cliche often used by managers of struggling teams – the one about players he would want in the trenches with him.

Bearing that in mind and that he also said straight after Tuesday's game that he already knew the side he would pick at Wolves, I must admit to being surprised when I learned of our team for today's game.

I expected a line up full of individuals that would be there in the trenches alongside our manager, but, if anything, there were less of what I would call warriors and scrappers included than you'd expect in a typical Warnock team.

That old battler Lee Peltier was there as our manager kept faith with under fire captain Sean Morrison as Bruno Manga missed his first minutes of our league season because of his relegation to the bench. However, in midfield I expected a return for Harry Arter, but it was Joe Ralls who came in for Leandro Bacuna and there was a return for the fit again Victor Camarasa who had been cleared by his Spanish doctors to play for since the Southampton game. Oumar Niasse returned after missing out against his parent club on Tuesday, but not at the expense of Kenneth Zohore or Bobby Decordova Reid, so I think it would be fair to say that this was not a selection designed to scrap its way to a goalless draw.

Perhaps the most striking thing about it all though became clearer when you saw the names on the bench because Junior Hoilett, Nathaniel Mendez Laing and Josh Murphy were all nowhere to be seen in our eighteen. Now, I suppose the idea that all three of them could have been injured cannot be completely discounted, but I think it's highly possible that our manager has finally lost faith in his wingers.

I could never have imagined that we would go into any Premier League match this season with Kadeem Harris as the one and only winger in our squad, but if this is a signal that wingers are going to play much less of a part in our team, then I must say it's not before time given their patchy and uninspiring contribution thus far.

It was not a good day for Bamba as, besides his error for the second goal, he suffered what threatens to be a season ending injury just before half time while committing a foul which earned him a yellow card and so it looks like any debate as to who of our three centrebacks should be left out can be put to one side now.

Indeed, if Neil Warnock has really run out of
patience with his wingers, then why not try Peltier in a back three alongside Manga
and Morrison with Callum Paterson and Joe Bennett as wing backs?

Mind you, I fear that whatever selection and system we go with over the next couple of months, it's not going to be enough to save us. I suppose Chelsea could have one of their "walkabout" days when they come here, Liverpool may be struck by title nerves or Manchester United's Champions League fate could be decided one way or another by the time we play them, but the nature of our first eight games against the big six this season strongly suggests that we can expect nothing at all from four of our remaining matches. Therefore, even, say, an optimistic ten points from the other five would probably not be enough to ensure safety – especially with our very poor goal difference.

Anyway, back to my Jonah complex! I've mentioned before that the only two league defeats in a period of around eighteen months Blaenrhondda suffered just so happened to be in the first two games I saw them play, well now their record in matches I've been present at reads won one and lost three after today's 3-2 beating.

To be fair, Blaenrhondda have now lost matches when I wasn't present. In fact, this second home defeat on successive Saturdays was their sixth of the season – curiously, five of them have come at home, so they have a very poor record on their own ground for a team sitting third in their league.

Today's game was the most entertaining I've seen Blaenrhondda play. They were a goal down when I arrived with about five minutes played, but levelled virtually straight away with a wonderful lone range effort and within ten minutes they were in front when Hugh Bowtell netted with a neat chip after the visiting keeper had kicked the ball straight to him.

The keeper would make up for this lapse with some fine saves however which ensured that Blaenrhondda didn't go to the break with the two or three goal lead their dominance deserved. It was a different story after the interval though, as the home side never really got going again and Cardiff Airport's enterprising approach was rewarded with the two goals that would win them the game. The only good news for Blaenrhondda was that second placed FC Cwmaman were beaten at home by the same score and so the situation at the top of the table didn't change too much.

The rain that had held off for the duration of the game appeared with a vengeance just in time for my walk home and then my day ran true to form again as Jos Buttler, England's last hope of reaching a competitive total, was out to the first ball I watched of their very embarrassing one day defeat by the West Indies when I got in.

Just to say that I don't accept any responsibility for Ton Pentre's 4-1 home defeat by Pontypridd which keeps them
at the bottom of their league with most of the teams around them showing signs
of improvement or for City's Under 18s' loss by 2-1 at Ipswich mind!

That was a big defeat for the Academy team against the side which is second in the table. An early penalty save by George Ratcliffe followed up by a Sam Bowen goal had City in a good position after forty five minutes, but they were undone by two goals in three minutes by the home team, so a lead for them at the top of the table which was nine points has been reduced to four in the space of a week – all things considered, it really has been a crap day!

Once again, can I make a request for support from readers by them becoming my Patrons through Patreon. Full details of this scheme and the reasons why I decided to introduce it can be found here, but I should say that the feedback I have got so far has indicated a reluctance from some to use Patreon as they prefer to opt for a direct payment to me. If you are interested in becoming a patron and would prefer to make a direct contribution, please contact me at paul.evans8153@hotmail.com or in the Feedback section of the blog and I will send you my bank/PayPal details.